Do you know you can attract termites to your property? It's true. While termites can come into your yard randomly, it is far more likely that conditions in your yard will attract them. If you know what those conditions are and you get rid of them, you can deter termites. Today, we'll walk you through all you need to know about termite prevention in Charlotte. We'll look at the life cycle of termites and look at what factors attract termites in different stages of development. We'll look at how subterranean termites are super sneaky and will discuss ways you can detect those sneaky pests. Lastly, we'll look at specific ways your property can invite a termite problem. When we're done, you'll have the information you need to help you avoid termite damage. Before we start, we want to quickly point out that termite prevention isn't easy. You'll have to roll your sleeves up and do some hard work. If you'd prefer to protect your property without doing all that work, jump to our contact page for professional termite pest control in Charlotte. Our certified technicians are happy to help.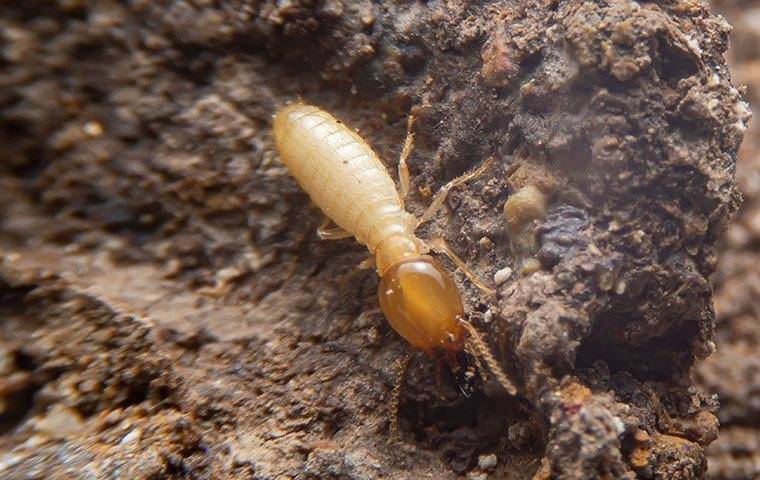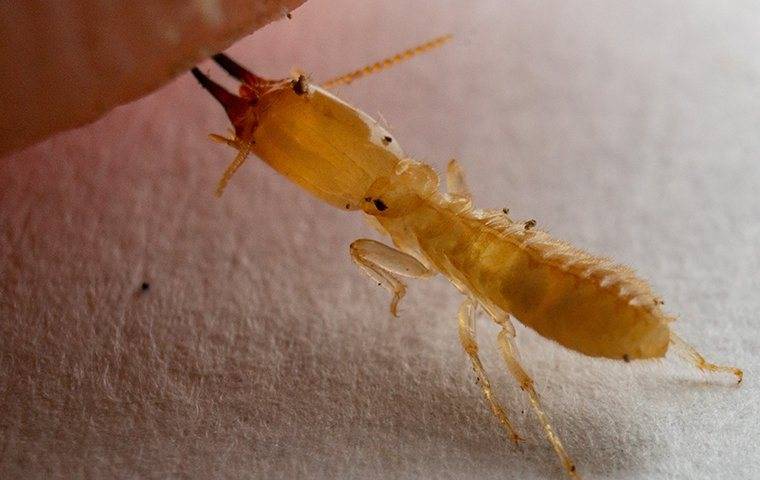 The Life Cycle Of A Termite Colony
There are several ways to separate termites. The easiest to understand is separating them into two groups: Sterile and fertile. The sterile termites, known as neuters, are workers and soldiers. They do the grunt work. The fertile termites, known as reproductives, are swarmers and secondary reproductives. Swarmers have wings, and secondary reproductives are wingless.
Most termites are in the worker caste. They're the termites that eat the wood in your home. All the other termites get their sustenance from the workers through a sharing of fluids. Since workers comprise the largest population in a termite colony, we'll look at them first.
In a subterranean termite colony, workers live almost exclusively in their tunnels. Their tunnels are located in soil or wood. Workers live their entire lives in utter darkness and avoid all light, even moonlight. Workers also have another reason to stay in their tunnels: they dry out easily. A worker termite needs moisture to stay hydrated. These two factors are why termite workers are hard to detect. We'll get more into this in a moment.
Soldier termites are found with the workers. It is their job to protect workers from predators. They use their black pincers to fend off the enemy and their large orange heads to plug holes.
Swarmers are tiny black termites with long white wings. If there is a termite swarm in your house, you won't likely miss it. Their black and white coloration is quite noticeable when they're gathered together in a swarm. Unlike workers, termite swarmers are attracted to light.
Secondary reproductives live in termite tunnels and are responsible for creating satellite colonies. A satellite colony allows termites to develop a population near a food source. These new colonies are established in secrecy and are completely hidden from view.
Each of these kinds of termites has its own unique ways of avoiding detection. Let's quickly look at how this works.
Termite Activity Can Go Unnoticed For Some Time
Worker termites hide from the light, and soldier termites stay near the workers. It is easy to see why they go unnoticed. But it is more complicated than you might think. There are only three ways to detect signs of termites in your yard or home.
You'll see a termite. Since termite workers avoid even moonlight, it is hard to detect them.
You'll see damage. Worker termites do not like to breach tunnel walls. As soon as they detect light, they stop. Researchers have observed worker termites stopping short of the paint on wood, or coming within a millimeter of the surface of wood timbers.
You'll see shelter tubes. Subterranean termites create shelter tubes. But these tubes are rarely created where they are easily seen. Workers will construct them in dark voids underneath decks or in crawl spaces. They may also create them behind landscape vegetation.
It is tricky to catch signs of worker termites or evidence of termite damage because workers avoid the light.
Reproductive termites live in utter darkness. When they are tasked to create a satellite colony, they don't need to emerge from the ground. They move through tunnels created by the workers and never appear above ground or on the exterior surfaces of wood.
Swarmers are attracted to light and are found on the exterior surface of wood. So it is easy to see a reproductive termite, right? Don't count on it. Here are two ways swarmers are sneaky.
Swarmers rarely emerge on the interior of homes. They prefer to take to the air outside. If you see a termite swarm in your house, it is a bad sign. It means you have a severe infestation. That's not a great way to find out you have a termite problem.
Swarms last less than an hour. They can emerge, mate, shed their wings, and disappear into the ground in the time it takes you to go to the grocery store.
It is often a challenge to detect active termites, even for professionals. That's why leading termite control professionals use bait stations to monitor termite activity; it is easy to see when termites take the bait. Before you get too excited, you should know that it is not a good idea to install bait stations on your own. Over-the-counter products do not have the efficacy of professional-grade products, and the manufacturers of professional-grade products certify technicians to install their products because it isn't as simple as sticking a bait station in the ground. If you do it wrong, you'll install a food source and do nothing to protect your property from damage.
Identifying Factors That Attract Termites To Your Home
There are only three factors that attract termites to your home. Worker termites are attracted to food sources and moist soil, and swarmers are attracted to light. You can greatly deter termites by considering these three factors. Let's begin with food.
Food: Termites have a strange relationship with food. It is why bait can fall short when the wrong bait is used or when bait stations are not properly installed and maintained. Workers feed on more than one food source at a time. If food is dangerous, the workers start to avoid it. Our recommendation is not to install a food source on your property but to remove all potential food options.
Pick dead branches up and remove them or store them in a bin.
Put scrap wood and other wood sources on a mat or on an elevated structure.
Replace wooden landscaping trimming with a material termites won't eat.
Remove stumps, logs, and dying trees.
Replace wood fencing with vinyl fencing.
Any wood that touches the ground or that is buried in the ground will eventually attract termites.
Moisture: Termite workers are drawn to moist soil. They need moisture to stay hydrated, and they may, on some level, know that rotting wood is found in damp environments.
Clear gutters of debris.
Fix gutter breaks.
Trim branches on shrubs.
Remove unwanted grass and weeds from your landscaping.
Fix plumbing leaks.
Address any condition in your yard that promotes damp environments. Doing so will do more than deter worker termites. We have many pests in Charlotte that are attracted to moist habitats.
Light: Swarmers are drawn to exterior lights, particularly lights that cast white or natural light. The primary way to address this is to keep the lights off. But you may have lights in strategic areas where it is a security concern to keep them off. Here are some alternatives.
Install motion-sensing light fixtures. The lights will only come on when they're needed and they only stay on for a short time.
Install yellow light bulbs. Insects can't detect yellow light and are not attracted to it.
Draw your curtains and close your blinds at night to keep interior light from shining out.
Termites go where conditions are conducive for feeding and habitation. You can have a big impact on termite activity by taking simple steps like the ones listed above.
Professional Termite Control Made Easy For Charlotte Homes
If you're in Charlotte, consider letting the service team at Go-Forth Pest Control help you deal with termites. We use the Sentricon® System with Always Active™. It is an award-winning system with a ton of research backing it and an impressive number of independent studies that confirm its efficacy. Sentricon® has quickly become the termite control method of choice for industry experts. Not only does it make termite detection a breeze, it works 24 hours a day, 365 days a year to strike back at attacking termite colonies. With Sentricon®, there is no digging, trenching, structural drilling, chemical injections, or scheduling hassles. If you want hassle-free termite control you can trust, Sentricon® is the right choice.
Connect with us today to learn more about the Sentricon® System or to schedule a service visit. While there are many ways you can deter termites and avoid termite damage, Sentricon® provides real peace of mind.