Pest Control Services In Rock Hill, SC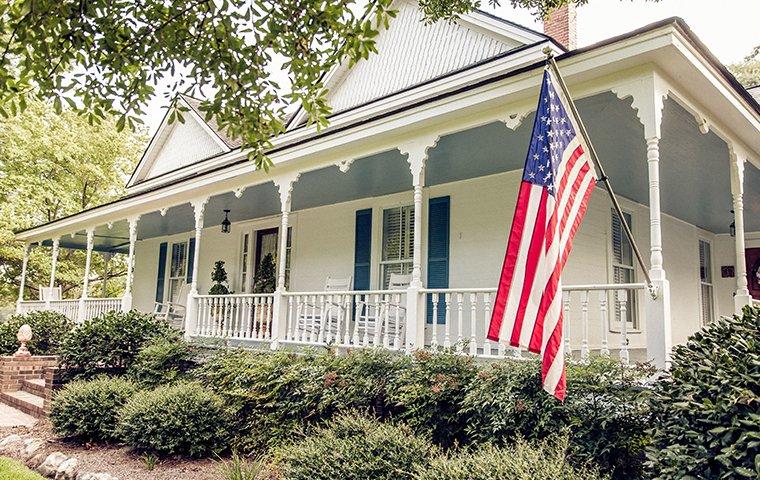 Our Charlotte Pest Control branch proudly offers Rock Hill pest control services. Our local pest control experts can get rid of all bugs and pests from your home like mosquitoes, bed bugs, ants, termites, roaches, rodents, spiders, fleas, wasps, and many other crawling insects and stinging bugs.
We serve local areas near Rock Hill, Newport, Fort Mill, Springstein, Riverview, and Lesslie.
Eliminating Pests Fast & Safe
Our trained Rock Hill exterminators will target key areas where we know pests love to hide. We use the latest pesticides that are both safe for kids and your pets, but also strong enough to eliminate and exterminate bugs and insects around your home.
Local Pest Exterminators With Decades Of Experience
Our local exterminators in Rock Hill have decades of experience dealing with all types of local pests from the Rock Hill, SC area. Every region of SC has its own little bugs to worry about, luckily our exterminators have 20+ years of experience dealing with local pests. Our pest control experts can identify bugs on the spot and tell you what type of pests you're dealing with.
Top Pest Control Services
Our top-requested pest control services around Rock Hill:
1. Termite Protection: We use out Sentricon station to protect homes from getting a termite invasion. If you already have termites this will help to lure them away from your property.
2. Ant Extermination: Ants are no easy task to get rid of on your own. At Go-Forth, our professional ant control experts will put a special bait out that can be taken back to the entire colony so they are all eliminated.
3. Mosquito Control: We can help get rid of those pesky bugs on your property so you can enjoy the outdoors more. If they are gone for good you don't have to worry about the diseases that come with them. Call our professional mosquito exterminators today!
4. Cockroach Control: With their highly negative connotation, you don't want cockroaches infesting your home or business. These pests multiply quickly and will get out of control if not exterminated. Call our professional exterminators to take care of the problem!
5. Flea Control: It's always advisable to wash your pets with a flea treatment, but if the flea infestation is out of control, we're here to help you exterminate those fleas.
6. Rodent Control: Our rodent control service is one the most requested by Fort Mill customers. It's not very expensive and it will make sure you don't have mice or rats inside your home.
Why Our Rock Hill Exterminators?
Pests are usually a bigger problem than they are initially thought to be. Besides being a great nuisance, they are also a danger to your property and may cause some serious damages. If not controlled promptly, pests are potentially a health risk. Mice, for instance, contaminate your food and play host to other pests such as fleas. Mosquitoes spread malaria. The importance of effective pest control in and around your home is therefore unquestionable. Professional pest control services are often critical to the success of a control operation. Below are some of the reasons why professional extermination services are your best shot at controlling pests on your property.
They Conduct Inspections
It goes without saying that controlling pests is easier when you are aware of the type of infestation you are facing. For some pests, you may even need to know the extent of the infestation to better employ effective treatment. What a typical local company does prior to commencing treatment is inspection of the property. They asses the property to establish the magnitude of the invasion, locate the entry points, and determine the nest of the pests.
Using information acquired from the inspection, expert exterminators determine the best way to handle the pest problem. They therefore stand higher chances of effectively solving the issue and eliminating the pests from your property.
Effective Application Of Treatment
Some level of skill and expertise is important during the application of pest treatments. Methods often vary depending on the type of treatment being applied or the control measure being used. For certain pests, treatment usually involve the use of poisons which are just as toxic to humans. Knowledge is therefore needed while handling such substances to alleviate risks it may pose to the household. With expert extermination service, you can rest assured of safety.
Treatment also needs to be applied in a way that it reaches the maximum number of pests. To achieve this, you need to understand the tendencies of the pests and know the location of their paths. Professional exterminators have definitely handled several kinds of infestations. They are therefore better suited to handle your pest problem - a case in point is in the control of ants. Strategically placing bait allows them to get to it. They consume and carry some of it back to their nest where the others consume it.
For pests that are controlled using traps, a local company will provide expert exterminators who are skilled at setting up traps. They will catch and get rid of a majority of the pests, leaving your home peaceful once again.
Long Term Solutions
The secret to long-lasting pest solutions is prevention. After eliminating the pests already on your property, you need to set up prevention measures. You can either block their entry points or apply repellents around the premises. This is another reason professional pest control experts are a better option. They are knowledgeable on the ideal prevention measures that will keep your property safe from pests for a long time.