Advanced, Affordable Pest Control Services In Smithfield, NC
Are pest problems adding unnecessary stress, frustration, and disturbances to your life? Do you wish there was a simple way to ensure your Smithfield home or business stays pest-free throughout the entire year? If so, Go-Forth Pest Control is right for you. We have the experience, equipment, and know-how needed to effectively rid your property of pests. Whether you're dealing with stinging insects, spiders, rodents, cockroaches, or other pests, we have you covered. Our goal is to provide advanced pest management solutions to protect your Smithfield home or business all year long. Don't allow pests to invade your property and get in the way of your quality of life. Instead, get in touch with Go-Forth Pest Control to get started on your journey to a pest-free future.
Home Pest Control In Smithfield, NC
Household pests are much more than a simple nuisance. They're a threat to your property, family, and health. When pests such as rodents and insects invade, you should always reach out for professional assistance from the technicians here at Go-Forth Pest Control. We have the experience needed to eliminate existing pest threats and prevent new ones from occurring in the future. Regardless of what pest problems you're facing, you can count on the professionals from Go-Forth Pest Control to get rid of them in a timely fashion. Give us a call today to learn more about all of the residential pest control services we have to offer!
What Is the Best Flea Control Method In Smithfield, NC?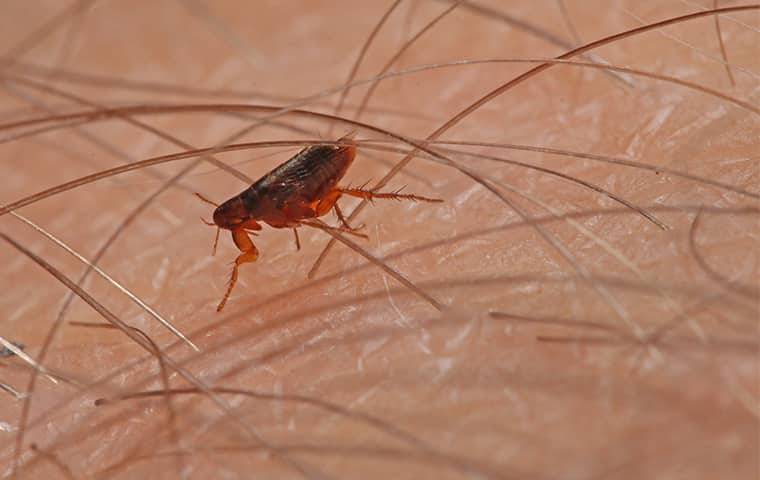 Fleas are tiny, annoying pests that have reddish-brown bodies and strong hind legs that allow them to jump several times their own height.
These common parasites require the blood of a host to survive and can leap from one host to another with ease. If you've ever owned a pet, you're probably aware of how frustrating flea infestations can be.
When it comes to preventing fleas from getting into your Smithfield home, it's important to follow these methods: equip your pets with flea and tick prevention, inspect your pet's fur for fleas after spending time outdoors, vacuum your carpets, and bathe your pet regularly.
If fleas have already gotten into your residential property, your best option is to contact the professionals here at Go-Forth Pest Control. We have the experience and products necessary to eliminate your flea infestation at its source.
Get in touch with Go-Forth Pest Control today to find out more about our flea control options.
Flying Pests: How To Keep Them Out Of Your Smithfield Yard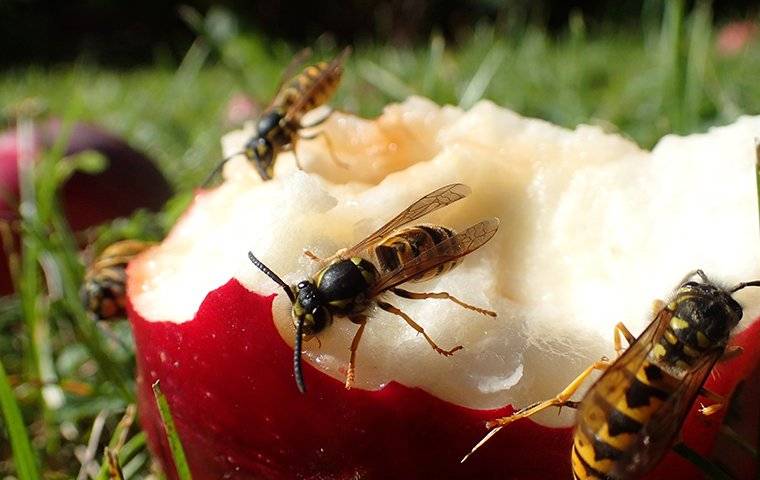 Flying pests come in a variety of shapes and sizes. Some spread harmful bacteria and contaminants, while others inflict painful bites and stings if you wander too close. Here in Smithfield, the most common species of flying pests are wasps, yellow jackets, mosquitoes, hornets, and flies.
Although flying pests have several differences depending on their species, they also have many similarities. One of the things that most flying pests have in common is what attracts them. Many flying pests are attracted to moisture, shade, and food sources. This means to keep mosquitoes and other flying pests out of your Smithfield yard, you must remove the factors that may entice them to your property in the first place.
Avoid attracting flying pests to your property by implementing the following pest prevention tips:
Keep thick shrubs, vegetation, and overhanging tree limbs cut away from your property.

Remove tree stumps, woodpiles, and other clutter that flying pests could use to nest in.

Keep your lawn trimmed short regularly.

Eliminate sources of excess moisture by repairing leaky pipes, drains, and faucets.

Clear debris out of your gutters that could prevent water from draining properly.

Keep your garbage cans sealed and stored away from the exterior of your home.

Pick up uneaten pet food and store it in an airtight container.
If flying pests are causing problems on your Smithfield lawn, the professionals from Go-Forth Pest Control are here to help. Don't hesitate to contact us today for immediate assistance with your pest problems.
Commercial Pest Control In Smithfield, NC
To run a successful business, it's important to keep your customers satisfied. But if pests take over your commercial facility, it could lead to unhappy customers and a significant loss of revenue. Without the protection of a comprehensive pest control plan, pests are capable of destroying important equipment, spreading dangerous diseases, and threatening your reputation. When pests invade your Smithfield business, the most effective way to get rid of them is with ongoing commercial pest control services from Go-Forth Pest Control. We keep businesses pest-free by implementing the most effective and affordable pest control methods available. Don't wait for destructive and dangerous pests to take over your Smithfield business. Instead, partner with the technicians here at Go-Forth Pest Control for services that protect your commercial property from pests throughout the entire year.