Quality Pest Control In Snow Camp, NC
The community of Snow Camp is well known as the home of the Snow Camp Outdoor Theater and its historic roots with the Quaker community. Today, the area is also home to farms and local wineries. With the addition of close proximity to Greensboro, Durham, and Raleigh, this outdoorsy haven is a great escape for year-round and seasonal residents. Pest problems abound here, which is why Go-Forth Pest Control is dedicated to working with local homeowners and businesses on a continual basis.
Since our establishment in 1959, our family-owned business has listened to the needs of our neighbors and developed safe solutions that are tough on pests. Each service that we provide is built around our customers' specific requests and goals, and utilizes EPA-approved products so that we can further prioritize safety. These treatments are also backed by our satisfaction guarantee because we believe in fixing problems, not leaving you with bigger ones. To learn more about quality pest control in Alamance County, contact us today.
Residential Pest Control In Snow Camp
At Go-Forth Pest Control, we believe that every homeowner should have access to reasonably priced and comprehensive pest control services. For six decades, we have been focused on developing safe, effective, and reliable programs that are suited to the specific goals of our customers. But we don't stop there; we want your entire experience with us to be seamless. This is why we believe in transparent and timely communications, either over the phone or via email and chat. We provide homeowners with pest-specific solutions for termites, bed bugs, rodents, wildlife, and mosquitoes, however, we also have general plans that provide year-round protection. Those include:
The Basic. For the homeowner who wants some assistance with pests, these quarterly exterior services will address ants, spiders, millipedes, and rodents. You'll receive free re-services if needed.

My Elite. With bi-monthly treatments that target the interior and exterior of your home, you'll also receive protection from stinging insects and priority booking.

My Elite Plus. Our most inclusive plan provides additional services for ticks, mosquitoes, fire ants, and ornamental pests.
For more information on the benefits of our residential pest control programs, contact us today.
How To Keep Mosquitoes Away From Your Snow Camp Yard
Mosquitoes are the deadliest animal around the globe due to the deaths that they're responsible for. Whether they bring dangerous pathogens to your Snow Camp yard or not, they can be an absolute nuisance. They are attracted to humans for their blood and our yards for conducive conditions, like moist leaf piles and shady trees. Keeping them away with DIY methods doesn't address the root cause of problems, nor are these fail-proof. That's why the best way to keep mosquitoes away is with professional help from Go-Forth Pest Control.
Our process begins with a meticulous inspection of your entire property to determine where mosquitoes are breeding and where they are congregating. From there, we treat all of the landscaping around your property with residual adulticide. If mosquitoes are breeding, we'll treat those areas as well. With routine treatments during the season, we'll be able to keep mosquitoes from being an issue and you can enjoy your property again. For more information on mosquito prevention, contact us today.
The Truth About House Flies In Your Snow Camp Home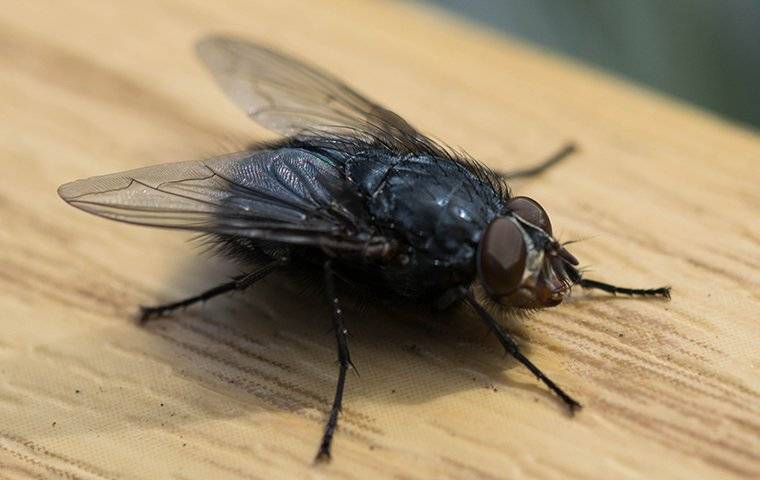 House flies zip around your Snow Camp home in search of sweet foods, rotting items, and decaying meat. They're also lured in by alcohol, soda, and overripe fruit, so if any of these items are found around your home, expect a swarm of flies. While they are capable of being a true nuisance, the average lifespan of a house fly is actually only about 30 days. That said, they can still lay up to 500 eggs, which perpetuates the infestation. But problems aren't due to just their size; house flies are also linked with the spread of E. coli and salmonella, which makes them particularly dangerous inside your kitchen. They make their way into your home through cracks, crevices, open windows, and gaps, which means that keeping them out can prove very difficult. For more information on house fly control, contact Go-Forth Pest Control today.
Commercial Pest Control In Snow Camp
Your business deserves the best and when it comes to pest control, Go-Forth Pest Control offers just that. Since 1959, our local, family-owned business has been dedicated to the needs of our community, which is how we've developed such a well-regarded pest control program to this day. From our first inspection of your property through the development of your customized treatment program, we will work to understand what your goals are in their entirety. This means that whether you run a school, restaurant, medical facility, or warehouse, and whether you're facing termites, cockroaches, rodents, or bed bugs, we can find the solution that's right for you. Each product that our expert technicians use is EPA-approved in order to maintain the safety of your employees and customers. To learn more about how commercial pest control can benefit your business, contact Go-Forth Pest Control today.