Bed Bug Exterminator In Tega Cay, SC
Have you found bed bugs in your Tega Cay, SC home? Go-Forth Pest Control of Charlotte can help you get rid of them so you can get back to sleep. Bed bugs multiply fast if they are not taken care of quickly. If you let bed bugs wander around your property and attack you when you are sleeping, you will not only have bed bug bites but will also experience sleep disruption. Before they cause a severe infestation, handle them instantly by calling a professional exterminator - that's Go-Forth!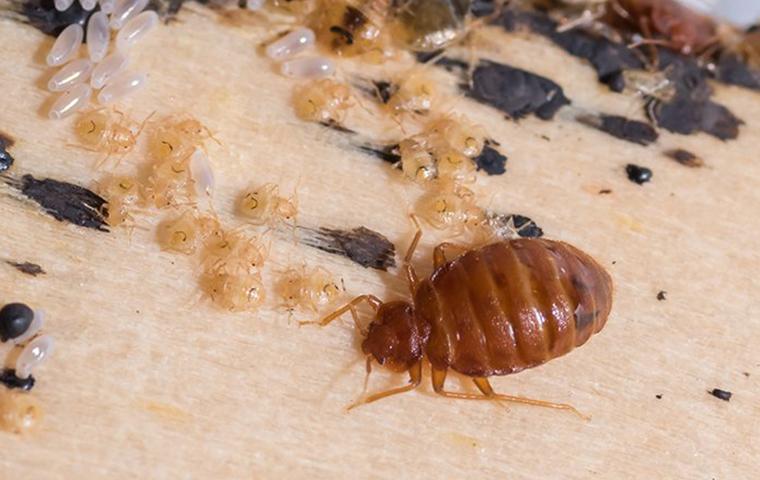 Pest Control Near Me
We have been in business since 1959 and know how to handle any pest problem you may be having. Bed bugs are hard to manage on your own because of their ability to hide and their reproduction rate.
We train our technicians to be able to find their hiding spots and know how to remove them from your home effectively. We are a locally owned company that will make sure every customer is happy with our pest control services. Give us a call today or click to get a free quote on your bed bug control now.
If you are looking for a trusted and well-experienced pest control company near you in Tega Cay, no need to look further because Go-Forth is always here! We are just one call away, and we will immediately come to you whenever you need our professional services. We will you get rid of those bed bugs, insects, and pests successfully!
Local Pest Control For Bed Bugs
Bed bugs usually show up in a home after you have returned from a vacation or staying in a hotel room. These bugs love to travel and will hide just about anywhere until they find a suitable environment like your bed. If you think you have bed bugs call your local exterminator now so they can get rid of them for you.
It is hard to notice bed bugs at first because they are translucent until they begin to drink blood. They are nocturnal which is why they bite you when you are trying to sleep. They are attracted to exposed skin like your neck, arms, and hands. Bed bugs leave behind red, itchy bites that can develop into rashes. Even though most of the time they are found in beds, they can also be found in couches and other furniture. Some people have even seen them on their walls and carpet. If you want to avoid all the problems that come with bed bugs, make sure you call a professional pest control company.
Bed Bug Company Near Me
Go-Forth is a local bed bug control company near you in Tega Cay. We provide excellent yet low-cost services for everyone - even to our customers in local areas! Go-Forth Pest Control of Charlotte can service many areas nearby like Mint Hill, Fort Mill, and Rock Hill, SC. There are different treatment options for our customers to choose from and we will make sure the best one is chosen for your pest control needs. Call us today!
Our Reviews
Our customers value the work we do for them and we value our customers. We like to make sure our customers pest control problems are taken care of or their money back. Take a look at our reviews and see if Go-Forth Pest Control can help with your bed bug problem in Tega Cay, SC today.
Other Pest Control Services For Tega Cay, SC