Pest Control Services In Thomasville, NC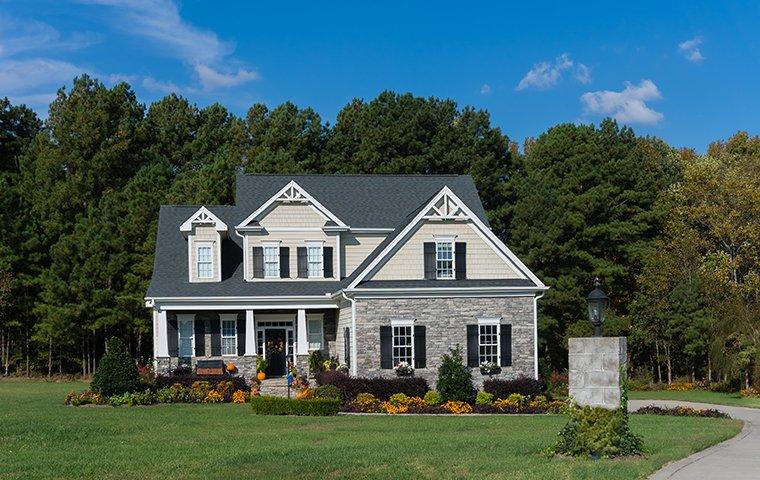 Do you need pest control in Thomasville, NC? Go-Forth is dedicated to providing the customers in our service area the best, most efficient pest and lawn care that is available to date.
We have cultivated our services and techniques for the last 50 years in order to exceed our customers' expectations and provide them with the best pest removal services, that procure the best results. With customer guarantees, same-day service, and Free Consultations, what's not to love? Live pest-free today!
Not sure pest and lawn care is for you? We cover the smallest pest problems to the largest infestation and offer a variety of services that can be customizable to YOU directly.
Our pest removal services vary in frequency, price, and target issue to ensure that we are taking care of your specific pest problem in the safest, most comprehensive, and effective way possible. Let us help you get rid of your pest problems today, you're just a phone call away from living in a pest-free household.
General Pest Control
Not sure what to do about a pest infestation in your home? Go-Forth Pest Control of Thomasville offers General Pest Control that treats everything from ant colonies to termites, which could be causing your home detrimental damage. The most effective pest control is not only eliminating, but preventative, and at Go-Forth we not only control your pest issue, we put measures in place to ensure that it doesn't recur. With our exterminators using only EPA-approved pest elimination methods and techniques, you can be assured that we will alleviate any issues that you may have both quickly and effectively.
Termite Control
Be termite-free, be pest-free. Get termite control. Due to the amount of damage that a termite colony can cause to the structure of your home, it's imperative that you take measures to control the issue as soon as you're made aware of it. Invest in a pest-free household. Go-Forth exterminators are fully equipped to identify, eradicate, and prevent future termite issues in your home. In addition, if you are buying or selling a home, Go-Forth also offers real estate inspections to help you ensure that your home is in tip-top shape during this process. Say goodbye to household pests - get rid of your pest problems today!
Ant Control
The key to an ant infestation is swift action. Don't leave your home to chance - get our ant extermination services. Go-Forth will treat your current ant problem in the safest, most effective, and timely manner available. Over 50 years of experience, using state-of-the-art ant removal equipment, and thorough training has equipped us to have the ability to get the job done, and get it done correctly throughout Thomasville and beyond. Are you ready to get rid of your pest problems today? Say goodbye to ants with our affordable ant treatments today!
Mosquito Control
Mosquitoes can be an annoyance, but they can also be quite dangerous. Mosquitoes are known carriers of things like West Nile, encephalitis, and Zika. Mosquitoes can present a real danger to you, your family, and your pets. Go-Forth of Thomasville will treat your existing mosquito problem by treating the breeding and resting areas of the mosquitoes in and around your home. Our proactive treatment plan will eliminate the present pests and prevent them from returning, so that you can rest assured that your family is protected and pest-free.
Insect Control
Stinging insects such as wasps, yellow jackets, and hornets can be a nightmare. They can also be dangerous to your family and pets. Don't wait until your stinging insect problem becomes a real problem, let us deal with it for you! Go-Forth of Thomasville's technicians and exterminators are not only trained in safe nest removal, they are also equipped to safely relocate the nests when possible! Call us and be insect and pest-free today!
Commercial Services
Not only does Go-Forth of Thomasville service residential areas, but we are your go-to for commercial properties as well! We proudly service nursing homes, offices, industrial complexes, HOAs, and property management buildings. Call us today and offer your customers a pest-free facility or business.
Get Rid Of Pests In Thomasville, NC
For quality pest control and yard maintenance service in Thomasville, NC and beyond, contact us today! Go-Forth Pest Control is an upscale extermination and lawn care business based in High Point, NC. We've been providing customers in High Point, Kernersville, Greensboro, Winston-Salem, Jamestown, Burlington, Asheboro, Lexington, Salisbury, Randolph County, and surrounding areas in the Piedmont Triad region with quality, affordable pest control service since 1959.
Well-Reviewed Pest Exterminator Company
Our pest exterminator company is one of the best-reviewed pest control companies in the area of Thomasville, NC. We have been here since 1959 - this alone has made us experts at detecting and exterminating pests of all types. No pest job is too small or too big for us. Get rid of your pest problem, live in a pest-free household today! Just give us a call you will be glad you did.