Flea Exterminator In Thomasville, NC
Have fleas invaded your home in Thomasville, NC? Go-Forth Pest Control can help you with this problem. Fleas are a nuisance to both you and your pets. Our technicians know to look for the places fleas love to hide. We will make sure your home is treated and then protected from it happening again. Give us a call today or click to get a free quote on your flea control now.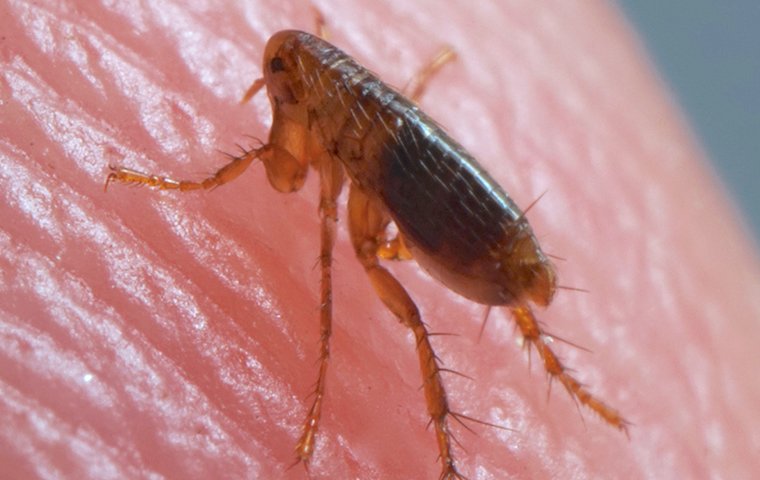 Flea Facts
Fleas love to find a host and live on them for as long as they can. They are however, able to jump from one host to the next. This is why pets are usually the ones to bring them into your home, but they can live on your furniture, carpet, or even you. Fleas can cause a lot of health problems in pets, like heartworm, which is why it is best to get your home treated and protected from them.
Fleas are great jumpers. They can jump non-stop for 30,000 times. Because of this, they can easily migrate from one place to another and can hold onto their hosts without difficulty. With their great jumping skills, they can quickly come to any property and start an infestation.
Before proper sanitation and antibiotics were known, fleas had caused a Black Death plague which hit Asia and Europe. The epidemic was created by the Yersinia pestis bacterium which fleas carry. This bacterium has been transmitted to humans and has killed rodents. But now, fleas aren't causing this illness as people were exposed to antibiotics and are also doing a great job in sanitation.
Fleas can quickly grow their population as female ones can give birth to 2,000 eggs in their whole lifetime. If there are several female fleas in a property, they can start an infestation without difficulty because they can lay eggs daily. In no time, fleas can infiltrate homes and pets.
There are over 2,000 species of fleas known. The cat flea is the species that is popular in the U.S., which does not only infest cats but even dogs. Also, this species can infest any property even without cats present. Fleas are tiny pests that can make a severe infestation if not eliminated immediately. To prevent it from happening, better call an exterminator near you!
How We Get Rid Of Fleas
Fleas don't only pester dogs or cats, but even humans can experience their infestation if they are not eliminated. That's why Go-Forth is here to help. With decades of experience as a pest control company, we know how to get rid of fleas once and for all. We only use treatments that are effective and safe which can drive away fleas, insects, pests, and bugs. Rest assured that everything will be gone and no trace will be left behind to give you, your family, and your pets a safe and flea-free environment. Once you call us, we will give you high-quality services at affordable prices which you cannot find from others. Call us and let Go-Forth get rid of those fleas successfully.
Flea Company Near Me
Go-Forth is a local flea control company near you in Thomasville. We offer low-cost services that customers in local areas can also get on the same day. Call us today! Our customers value our service and you could too. Let Go-Forth help with your flea control today in Thomasville.
Other Pest Control Services For Thomasville, NC