Effective Pest Control Services In Waxhaw, NC
Are you tired of dealing with pest problems in and around your Waxhaw property? Are you looking for a way to ensure your home or business remains pest-free throughout the entire year? If so, the professionals here at Go-Forth Pest Control have you covered. At Go-Forth Pest Control, we're proud to provide excellent pest management solutions for home and business owners alike. With more than 50 years of experience controlling and preventing pests, we're ready to eliminate your pest problems at their source. We rely on advanced treatment methods and prevention strategies to protect homes and businesses from all kinds of pests. If you're ready to say goodbye to pest problems, get in touch with the technicians at Go-Forth Pest Control today. We're committed to delivering effective residential and commercial pest control services that get the job done right.
Home Pest Control In Waxhaw, NC
Protecting your Waxhaw home is more than just ridding your property of dangerous and destructive pests. It's keeping your home and family safe from harm. Invading pests cause many problems for homeowners, including property damage, health issues, and increased stress. To protect your Waxhaw home from the area's toughest pests, you need a little help from the experienced pest professionals here at Go-Forth Pest Control. We provide a variety of residential pest control plans designed to eliminate existing pest threats and ensure they don't persist. Our residential pest control services include mosquito control, termite control, bed bug control, and more. Say goodbye to ants in your kitchen and mice in your attic when you partner with the professionals here at Go-Forth Pest Control today.
Four Termite Prevention Methods For Waxhaw Homeowners
No one ever wants to find termites living in or around their Waxhaw home. These small, social insects live in massive colonies and are capable of causing extensive damage to the structure of your residential property. Each year, termites cost United States property owners an estimated 5 billion dollars in repairs, prevention, and control. Without the right protection, termites can infest your home and cause significant damage undetected. To prevent termites from damaging your Waxhaw property, it's important to minimize factors that may attract them.
Avoid attracting termites to your home by implementing the termite prevention tips below:
1. Remove all sources of excess moisture from your property by repairing leaky faucets, replacing water-damaged wood, installing dehumidifiers, and clearing debris from your gutters.

2. Keep at least 18 inches between the soil and wooden portions of your home.

3. Eliminate wooden materials from your property, such as logs, tree stumps, and wood-based mulching products.

4. Seal cracks in your exterior walls and foundation to reduce points of entry for termites.
Prevention tips are helpful, but they won't guarantee the protection of your Waxhaw home. The only way to protect your property from termites is with professional termite control services from Go-Forth Pest Control. We have the experience and products needed to identify, eliminate, and prevent termite infestations throughout the entire year. Get in touch with us today to learn more about our termite control process.
Do The Rodents In Waxhaw Carry Diseases?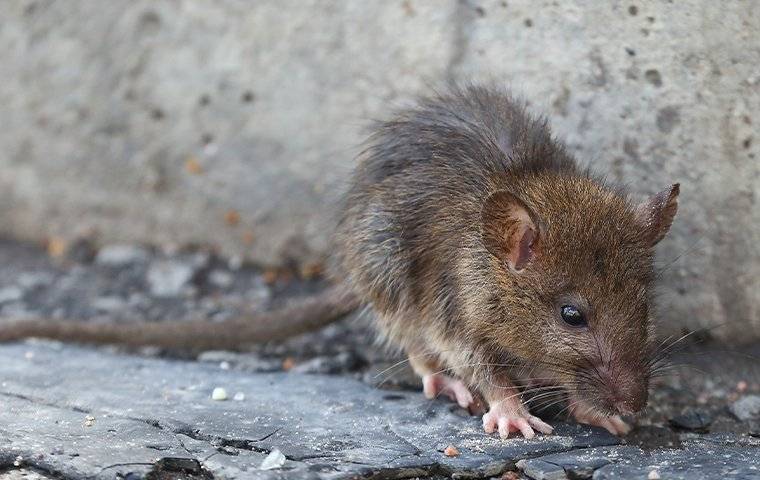 Some pests cause more problems than others when they get into your Waxhaw home or business. Unfortunately, rodent infestations typically lead to several significant consequences.
One of the main problems rodents cause is their constant chewing behavior. Rodents have long front teeth that grow continuously throughout their lives. To prevent their teeth from growing too long, rodents will chew on things to wear them down, including your electrical wires, furniture, pipes, food packages, and personal belongings. However, property damage isn't even the worst problem rodent infestations cause. Rodents also spread a variety of dangerous diseases that can make you and your family sick, including tularemia, salmonellosis, rat-bite fever, and hantavirus.
To protect your home and family from disease-spreading rodents, you need professional rodent control services from Go-Forth Pest Control. We'll work quickly to identify your rodent infestation and implement strategies to control both your current and future rodent problems. Reach out to us today for more information about how we handle rodent infestations.
Commercial Pest Control In Waxhaw, NC
As a business owner, you have many responsibilities to keep track of in order to run a successful company. And with all of those responsibilities on your plate, it can be difficult to remember the importance of commercial pest control. At Go-Forth Pest Control, we're proud to take care of your pest control needs so that you can focus on the needs of your customers. Whether you're dealing with mice, cockroaches, termites, or other pests, our licensed technicians have what it takes to get rid of them. Don't allow pests to invade your Waxhaw commercial facility, disturb your customers, and damage your reputation. Instead, contact Go-Forth Pest Control for comprehensive commercial pest control solutions that will protect your business throughout the entire year.