Quality Pest Management For Businesses
Go-Forth Pest Control of Winston-Salem has been getting rid of pests in the Piedmont Triad region for more than 50 years. If you're a business owner in Winston-Salem dealing with an unwanted pest infestation, choose our team of commercial pest control exterminators to effectively take care of the problem today.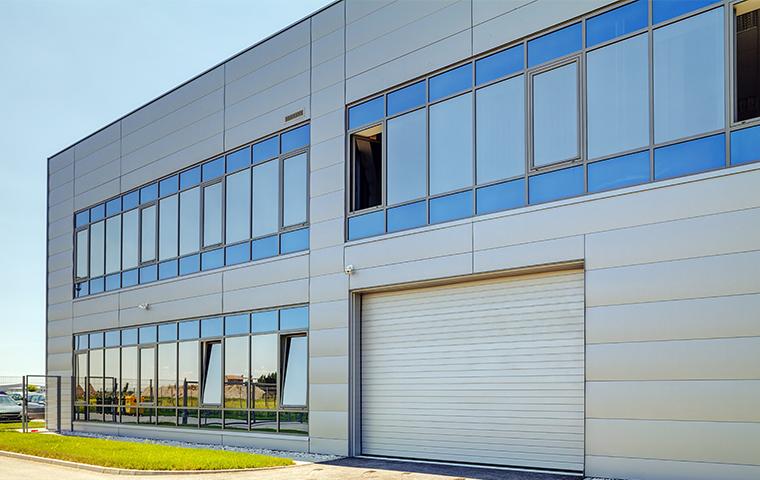 Our commercial customers are important to us, and we strive to give them the same level of exceptional extermination services that we give our residential clients.
We have decades of experience helping eliminate pests in Winston-Salem in commercial buildings, and we specialize in office buildings, plants, retail spaces, and restaurant pest control, inspection, and extermination.
However, we have knowledge of treating a wide range of commercial spaces in the local area, including the following:
HOA/Property Management

Nursing Homes

Office/Industrial Complexes

And More!
Commercial Pest Control Services In Winston-Salem
The menace of pests in the U.S. runs into billions of dollars yearly. These pests destroy goods and properties, in addition to the spread of diseases. Pests are unwanted animals, insects, and organisms that invade different environments. The destruction caused by pests includes reduction of structural integrity of buildings by termites and the destruction of pieces of art worth millions of dollars. Pest control is thus of great importance in the different sectors. We provide commercial pest control in Winston-Salem across the different sectors of manufacturing, healthcare, hospitality, and education among others, and we are a well-reviewed company. We deploy experienced exterminators to both large and small-scale pest infestations across these sectors.
Hospitality Sector
Bed bugs, fleas, rats, and termites are some of the most common pests encountered in the hospitality sector. Bed bugs, for example, can transmit disease-causing agents among patrons of the different hospitality services. Apart from routine cleaning and hygiene practices, professional exterminators may be required when a noticeable infestation occurs. We carry out general and specialized pest control services in the hospitality sector. Clients require small and large-scale services as necessary across the different departments of hotels, restaurants, eateries, and motels. We deploy specialized teams for each pest to contain the infestation process and carry out complete eradication of the pests. The quality of our services is standardized to ensure total eradication. All our projects are also properly documented with findings and recommendations for the clients as necessary.
The importance of our services cannot be overemphasized in the hospitality sector as comfort is the major priority of this sector. We work hand in hand with the maintenance and quality control teams of our clients in the hospitality sector to ensure that pest infestations are curbed. The processes we also employ in this sector are very timely to ensure that our clients experience minimal losses. In maintaining a long-term relationship with our clients, our team discusses measures that mitigate pest infestations with them. As our team observes peculiarities in pest problems, we carry out consultation sessions with our clients to ensure that they are aware of the best practices to mitigate the effects of pest infestation.
Manufacturing Sector
We provide commercial pest control services to clients in the manufacturing sector. Clients in this sector include manufacturers of domestic and industrial products. In manufacturing processes, ideal conditions are required to follow set standards in the different industries. Pest infestation can compromise these conditions. Pest infestations in food manufacturing industries, for example, can compromise the safety of food and lead to a recall of a batch, if not several batches, of products.
Our services include routine and emergency pest control measures for mitigating the effects of pests. Our team of exterminators provides expert services that prevent infestation of pests in the manufacturing sector. We study the different pest control scenarios presented by our clients and offer integrated solutions that improve the bottom line of our clients.
Pest infestations are one of the most unwanted situations in the manufacturing sector. In dealing with the different forms of pest infestations, our teams provide timely and efficient solutions customized to the peculiarity of every situation. There is no general method of handling pest control with us. For every project, we employ measures that are specific to the situations. The development of these methods is usually in consultation with our clients. We also ensure proper implementation of the designed pest control measures. The activities of all our exterminators and technicians are regulated by our quality control measures. We also routinely train our staff on measures of rendering the best quality of service. Our pest control activities for clients in this sector are properly documented, as they serve as reference points for future routine and emergency activities.
Healthcare Sector
The healthcare sector is one sector where the importance of pest control is greatly highlighted. In hospitals, clinics, healthcare centers, and maternities, pest control is necessary to prevent the transfer of diseases. Some pests such as mosquitoes and fleas are blood sucking and can transfer infections within a hospital environment. This is particularly important because the immune systems of most people within healthcare environments are compromised. Further spread of disease can lead to health complications which are avoided at all costs in healthcare environments. Our services in healthcare settings include installation of pest control measures, and routine pest control services. We also offer emergency pest control services as required. In healthcare settings, the measures applied to control pests are subject to regulation by healthcare boards, just as the measures used in other settings are subject to industry-specific regulations.
Other Pest Control Services For Winston-Salem, NC