Flea Exterminator In Winston-Salem, NC
Fleas are very important household pests. Fleas are pests that feed on the blood of their host like pets and humans. Fleas can transmit diseases and cause skin irritations and allergies for animals and humans. The eradication process of fleas involves inspection, identification, eradication, and prevention of subsequent infestation. Flea infestations are commonly identified by seeing scratching pets. When the adult flea takes a blood meal on a pet, the pet shows the discomfort by scratching. Our professional flea exterminators also educate clients on measures to keep the fleas out forever. We also carry out follow-up visits to ensure that the homes of our clients remain in the best flea-proof form.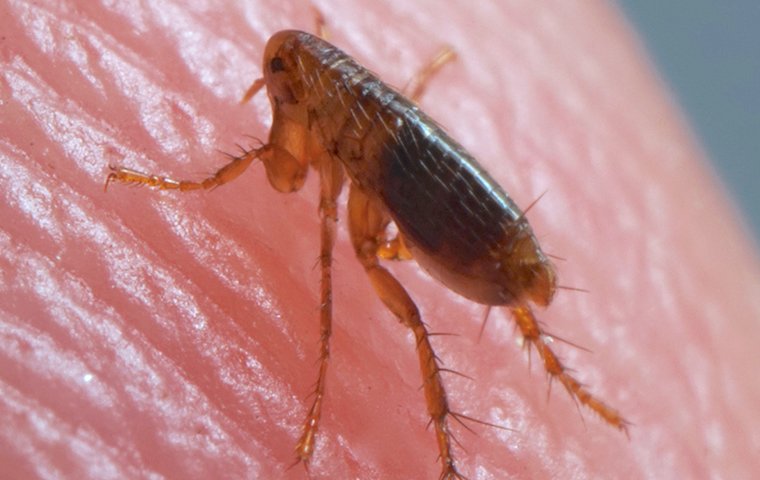 Flea Control Since 1959
Our pest control company has been dealing with flea infestations since 1959. Our experience has taught us to deal with all types of flea situations, so you can rest assured you're dealing with a flea control and pest control company with extensive experience at flea extermination.
Fleas are a common nuisance, if you have a problem with fleas in your Winston-Salem home, Go-Forth is here to help. Our exterminator company has been in the Winston-Salem area since 1959, and our pest control plans will get rid of your unwanted pests in a fast and effective way. All of our products are pet and kid-friendly and will get rid of your fleas.
Well-Reviewed Flea Control Company
Our flea control and pest control company is one of the most well-reviewed exterminator companies in the Winston-Salem area. Our company is also a member of national, city, and state pest management organizations and well as a member of the BBB.
How We Get Rid Of Fleas
Having fleas at home doesn't only put pets in danger, but also humans, and they can cause infestation wherever they go. With this, inconveniences can occur; that's why eliminating them early is the best solution. Our company is dedicated to giving you a flea-free home. We make sure to eliminate all those pests, insects, and bugs bothering you, your family, and pets. Our exterminator will meticulously check all the corners of your property to find where those fleas are, and even inspect your pets that are prone to pests.
Rest assured that we only use safe treatments that will not cause any risk on your family, property, and pets. We don't just eliminate fleas, but we can also successfully get rid of insects, bugs, and other pests like rodents, cockroaches, bed bugs, ants, and more which continuously bother your home. As your pest control company for several decades, we guarantee that we can make your home a flea-free home through our exceptional services that are effective in getting rid of fleas. Also, we assure you that you don't need to spend thousands of dollars on pest control because what we offer is always affordable. Whenever your pets, like dogs and cats, are scratching non-stop, fleas may have already infested them. Before they get them, you get them first through Go-Forth. We will drive those fleas away and will give you and your pets a healthier, safer, and cleaner environment.
Flea Company Near Me
Go-Forth is a local flea control company near you in Winston-Salem. We provide low-cost yet high-quality services which can get rid of fleas, insects, bugs, and pests for good. Customers who are in local areas can also enjoy our services even on the same day. Call us today!
Other Pest Control Services For Winston-Salem, NC