Pest Control In Chesapeake City, VA
Founded in 1963, the independent community of Chesapeake City, VA, is a beautiful place located on the Atlantic Intracoastal Waterway. This exciting city is close to Virginia Beach and Norfolk, providing access to all kinds of Virginia adventure. However, there is one kind of local adventure that none of us want to experience, and that is the nightmare of pest infestation. Unfortunately, all Chesapeake City homes and businesses are susceptible to pest infestation, and that can have serious consequences for you and everyone else on your property.
Go-Forth Pest Control is here to help guard you against the effects of pest infestation. Since 1959, our family-owned and operated company has been servicing home and business owners throughout Chesapeake City and the surrounding areas. With more than 50 years of pest control experience, we're confident in our ability to provide guaranteed pest protection to property owners throughout the Piedmont Triad region. Call today for reliable Chesapeake City pest control.
Residential Pest Control In Chesapeake City, VA
If you're looking for complete home pest control and lawn care services, look no further. Here at Go-Forth Pest Control, we provide residential pest control services that Chesapeake City homeowners can rely on throughout the year.
Starting with a thorough inspection, we identify all problems around your property in order to determine the most suitable treatment plan moving forward. After discussing the specifics of the problem with you, we get right to work on eliminating all pest activity and putting in place the proper precautionary measures to keep pests out moving forward.
Not only do we provide pest control and lawn care solutions, but our team is also experienced in effective TAP insulation and real estate termite inspections. Reach out to us today to get your free service quote; we're here to help you and give you the guaranteed results you deserve.
Bed Bugs: Hitchhiking Through Chesapeake City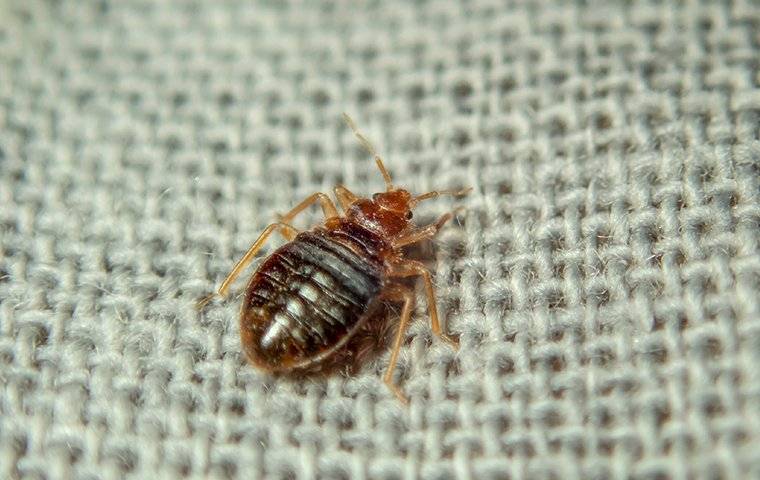 As nocturnal pests, bed bugs are active mostly at night. When we are asleep, bed bugs emerge from their remote hiding places to feed on human blood. Because of their small size and their nocturnal nature, bed bugs can be very hard to detect. In fact, infestations can go long periods of time without being noticed.
Bed bugs are also skilled at hitchhiking throughout your property. They travel from one person to the next by latching onto objects/clothing/furniture and traveling to whatever room that item goes into. Once they settle in one room, they establish breeding sites where they lay eggs and wait for human contact.
Often, homeowners bring bed bugs into their homes unknowingly. That's why it's important to check everything thoroughly before bringing things inside. If you want guaranteed protection from bed bugs, the best, most effective way to deal with the situation is to contact the experts. Go-Forth Pest Control is here to address all your bed bug control and prevention needs. Our team knows how to detect bed bugs, how to eliminate an infestation, and how to prevent one from occurring in the future. Reach out to us today to learn more.
Are You Accidentally Inviting Cockroaches Into Your Chesapeake City Home?
Here in Chesapeake City, cockroaches are fairly common, and these unsanitary intruders can have a lot of negative consequences around your home. If you want to identify the problem, you should know how cockroaches get inside in the first place.
There are a variety of ways in which property owners unknowingly contribute to their own cockroach problems. Are you accidentally inviting cockroaches into your Chesapeake City home? Here are some things you may be doing that attract cockroaches:
Allowing cockroaches access to garbage/decaying matter/waste.
Neglecting cracks and crevices around the foundation, windows, and doors.
Not remedying excess humidity and moisture problems.
Neglecting open spaces around wires, cables, pipes, and other utilities.
Failing to clean up readily available sources of food.
For the absolute best cockroach control and prevention services, you've come to the right place. Go-Forth Pest Control is proud to provide complete cockroach extermination solutions that give you complete coverage from infestation. Call today.
Commercial Pest Control In Chesapeake City, VA
The best way to protect your business from pests is with ongoing services from a team of pest professionals. That's why we're here, to protect your employees, your customers, and your overall facility from the effects of pest infestation.
From the initial inspection through each and every follow-up visit, our team is with you every single step of the way. We are dedicated to your complete satisfaction, because protecting your business from pest infestation helps protect the overall community of Chesapeake City.
Our service plans are customized to meet your needs, and we cater each treatment to meet the specifications of your facility. Our company has more than 50 years of pest control experience, and our reputation speaks for itself. Reach out to us today to discuss your commercial pest control needs.