Pest Control In Claremont, NC
Claremont is a small town about 43 miles northwest of Charlotte. Named after Claremont College, it's located in the foothills of the Blue Ridge Mountains, offering residents picturesque views and experiences with nature. Despite its small size, the community has plenty of homes and businesses.
The town offers residents various hiking trails and outdoor activities, but the wooded areas also attract pests. Most over-the-counter (OTC) products are ineffective and potentially dangerous, so you should call Claremont pest control professionals when pests invade your home or business.
Go-Forth Pest Control provides North Carolina residents with expert pest solutions. Our technicians have the skills and tools to eliminate infestations on your property.
Residential Pest Control In Claremont
Many people install security systems and lock doors, but few consider the most common invaders. Pests can sneak through tiny cracks in your exterior to damage your house and pass illnesses to your family. A quality pest control plan is the best way to protect your property.
At Go-Forth Pest Control, we understand that every home has different concerns. We offer multiple home pest control plans, allowing you to find the best fit. We'll inspect the interior and exterior of your home to find pests and use state-of-the-art treatments to eliminate problems.
Our preventative process will keep pests from invading your property, and our quarterly recurring services protect your home from future problems. Call us today to learn about our residential pest control services in Claremont.
The Most Effective Carpenter Ant Control In Claremont
Carpenter ants can cause extensive damage when they invade Claremont properties. As their name suggests, they infest wood, potentially weakening the structural integrity of a building over time. While not medically dangerous, their bites can be painful.
Signs of carpenter ants include small holes in wood and sawdust-like shavings around the holes. Their small sizes can make them hard to discover, and they can cause damage in hidden areas, so preventing these pests is the best option.
Some carpenter ant prevention tips for your Claremont property include:
Resolve moisture issues
Seal cracks or gaps in your exterior
Cut tree branches and plants away from the building
Keep firewood and building materials away from your structure
Remove or replace soft or water-damaged wood
These prevention tips can keep carpenter ants from invading your home but won't remove them. Our pest control professionals at Go-Forth Pest Control will help you avoid carpenter ant damage to your home or business. We can identify the ants and use the best techniques to eliminate them. We'll also take steps to prevent future problems.
Carpenter ants are problematic pests on Claremont properties. Let us know if you see these pests in your home or business and reach out for effective ant control services in Claremont.
How To Combat The Flying Pests In Claremont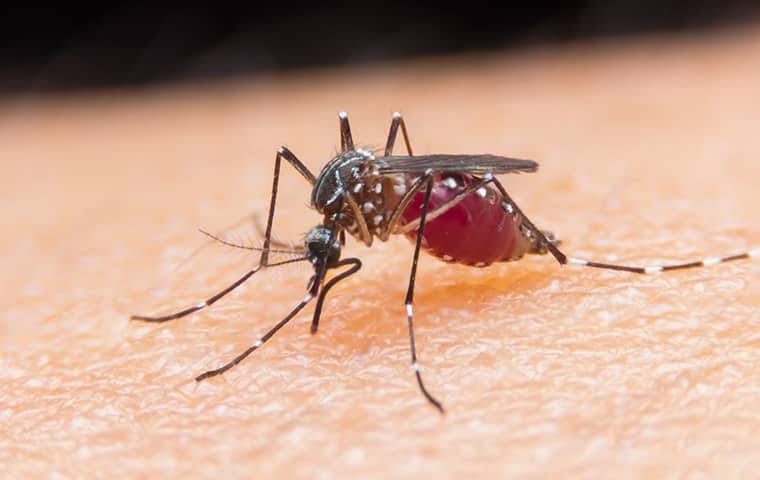 Many of the flying pests you see around your Claremont property might seem harmless. They're small and no more than an annoyance when they bite, but some can spread illnesses to people. Keeping these creatures away from your property will prevent these potential health threats.
Flying pests are difficult to remove from your property because they can enter open doors or windows and fit through tiny cracks in your walls. Fortunately, removing attractants from your property can help to limit the pest numbers around your home or business.
Some tips to prevent flying pests on your Claremont property include:
Install screens on doors and windows
Place tight-fitting lids on food and trash
Remove trash regularly
Avoid using artificial light when possible
Remove standing water
These tips can help to keep most flying pests away, but some will still invade your property. Our technicians at Go-Forth Pest Control know the common species that invade Claremont properties and provide pest control for lawns and homes to remove them. We'll also take steps to deter them from coming back.
When flying pests invade your yard or home, they can present health risks to your family. Our team at Go-Forth Pest Control is ready to help protect you from these potentially harmful pests. Call us today to remove flying pests from your Claremont property.
Commercial Pest Control In Claremont
Pests can cause various problems when they invade your business. In addition to causing damage and scaring customers, they'll remain in your building after business hours for full access to your facility. An effective commercial pest control plan is the best way to avoid these issues.
Our team at Go-Forth Pest Control has experience working with various North Carolina industries. We know the pest threats to your business and will identify factors that attract them. Our technicians will inspect your facility to find invaders and use the best techniques to remove them.
Rather than waiting for pests to cause trouble in your facility, our team can prevent these dangers before they occur. Contact us today to learn how we can protect your business with our commercial pest control services in Claremont.