Quality Pest Control In Fayetteville, NC
The small town of Fayetteville is nestled amidst some of North Carolina's most stunning scenery. Residents here benefit from a close-knit community, good schools, lots of local businesses, clean parks, as well as a beloved arboretum. Fayetteville is primarily home to growing families, but individuals who commute also make themselves at home here, as Greensboro is within reach. But even in quaint communities like Fayetteville, pest problems can develop throughout the year.
At Go-Forth Pest Control, we have been providing quality pest control in Fayetteville since 1959. We combine our decades of experience with an emphasis on innovation in order to deliver services that our customers can trust. Each of the services that we provide is always tailored to your specific needs. We also guarantee complete pest removal and we work until we achieve it. And because customer satisfaction is our top priority, no one will do more for you than we will. For more information on our pest control services, please call us today.
Residential Pest Control In Fayetteville
At Go-Forth Pest Control, we provide pest control in Fayetteville that keeps your home pest-free no matter what the day brings. We have been the trusted pest experts since 1959 and we continue to innovate to this day. All of our services utilize EPA-approved products that are safe for children and pets as well. In order to provide continuous coverage, we've created the following plans:
The Basic: Our entry-level plan provides quarterly exterior services to address pests like ants, spiders, and rodents. We provide interior treatments as requested.
My Elite: This program increases visits to bi-monthly to also address stinging insects, and interior treatments are always included. You'll also receive priority booking.
My Elite Plus: Our most inclusive plan includes routine servicing for mosquitoes, fleas, ticks, ornamental pests, and fire ants.
In addition to these programs, we offer specific services for lawn care, termite control, mosquito treatments, and more. Each of our offerings is also backed by our 100% satisfaction guarantee. To learn more about our residential pest control services in Fayetteville and receive your free quote, call us today.
Why Are Ants In Fayetteville So Hard To Get Rid Of?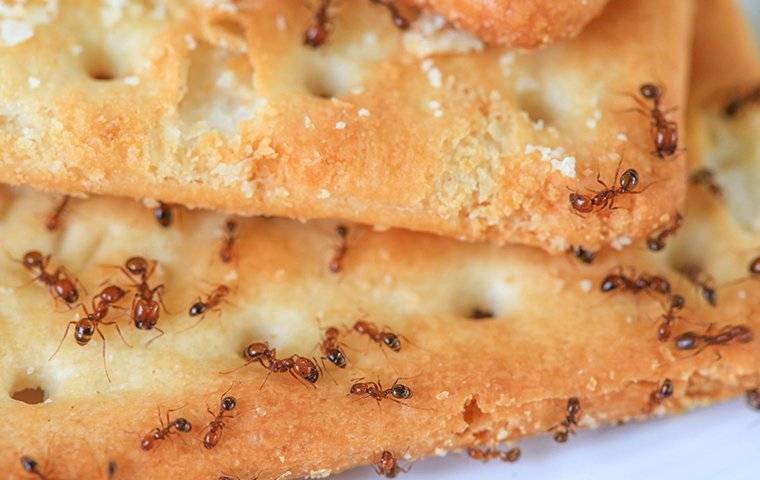 If Fayetteville property owners find themselves faced with ant infestations, they might find them difficult to eliminate. Most of the area's ant populations are a mere nuisance, but they are very easily attracted to an array of enticements. Some of the factors that attract ants include crumbs, spills, and leaks. While it might seem easy enough to maintain a clean home, it's more difficult than it might appear. Something as simple as having spilled soap in the shower or unrinsed jars in the recycling can lure ants inside. It's also possible for property owners to have moisture issues that they don't know about that are also secretly luring ant populations.
Ant infestations also develop very quickly because ants have the ability to fit through almost any crack or crevice that they find. Many properties have structural flaws that the average person can't identify. These openings unknowingly give ants access to everything they need. For more information on ant control in Fayetteville, call Go-Forth Pest Control today.
Can Silverfish In Fayetteville Be Harmful?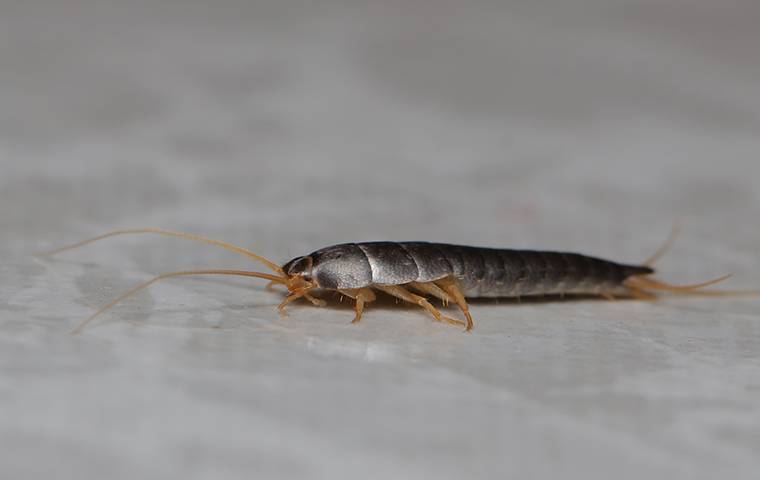 Silverfish in Fayetteville are considered a nuisance pest for property owners, so they aren't a serious threat. These pests typically utilize drainage systems as a means of entering homes and places of business. Properties with moisture imbalances are more likely to end up with silverfish infestations because these pests thrive in humid conditions. If there are any grains, pet foods, or sugary goods present, silverfish may appear as well.
While they are a nuisance, silverfish have the ability to eat away at books, clothing, upholstery, and other personal belongings. They can also leave behind feces that contaminate food and drinks, which can have some unpleasant side effects. Silverfish are prey for pests like earwigs, centipedes, and spiders, so their presence is unwanted nonetheless. At Go-Forth Pest Control, we include coverage for silverfish in all of our residential and commercial services because we understand how common a problem they are. For more information on silverfish control, call us today.
Commercial Pest Control In Fayetteville
At Go-Forth Pest Control, our Fayetteville pest control is customized to your business's exact needs. With more than 60 years of experience, we know that no two businesses are the same and we don't believe in treating them as such. We combine our expertise with a dedication to innovation in order to deliver the highest quality services in town. When you partner with us, we promise to deliver an honest and straightforward experience as well. You won't be waiting days to hear from someone or schedule your service; we believe in timely, upfront communication that makes us accessible.
Some of the businesses that we service include nursing homes, housing associations, warehouses, restaurants, and more. We also provide businesses with Christmas light installations to make the holiday season stress-free. For more information on our Fayetteville commercial pest control solutions, call us today.