Quality Pest Control Solutions In Franklinville, NC
Franklinville started as an idyllic setting as a textile mill village on the banks of the Deep River in 1847. Nowadays, it's expanded into the peaceful and pleasant environment we all love to call home. Whether you own a residential or commercial property in this wonderful area, you know how being here can benefit you.
Unfortunately, those benefits extend to other species as well. Pests love to be in Franklinville just as much as we do! When they try to invite themselves inside your property, it's time to reach out to Go-Forth Pest Control for help.
With a friendly demeanor and effective services for pest control in Franklinville, our local company has your needs covered. We have over 60 years of combined experience in the pest control industry, making us well-equipped to handle any pest problem your property may face. We're also a family-oriented company under third-generation ownership, and we put those familial values into every aspect of our work. That's part of why we are this community's most trusted name in pest control.
When you work with us, you get the outstanding customer experience you deserve and the reliable results you seek. Customer satisfaction is our priority, and we're determined to earn your return business and referrals at every service appointment. With the highest possible standards of service and professionalism, we'll exceed your expectations.
Depend on an innovative leader in the pest control industry that operates with the personally attentive demeanor your property needs. Go forth and schedule your appointment with the best pest control company in town today, Go-Forth Pest Control.
Residential Pest Control In Franklinville
Whenever you need home pest control in Franklinville, NC, you need help from our highly experienced team of technicians here at Go-Forth Pest Control. With industry-leading techniques, equipment, and products, we help you eliminate every last pest on your property.
Our technicians value simplicity and consistency, so we can conduct reliable services that get the job done completely and correctly every time. We're proud of our work, and you'll be proud of your pest-free home when we finish doing our job! Allow us to restore the health and safety conditions of your property by bringing us out to help with your pest problems. It all starts with a phone call today.
Franklinville's Solution For Ant Hills On The Lawn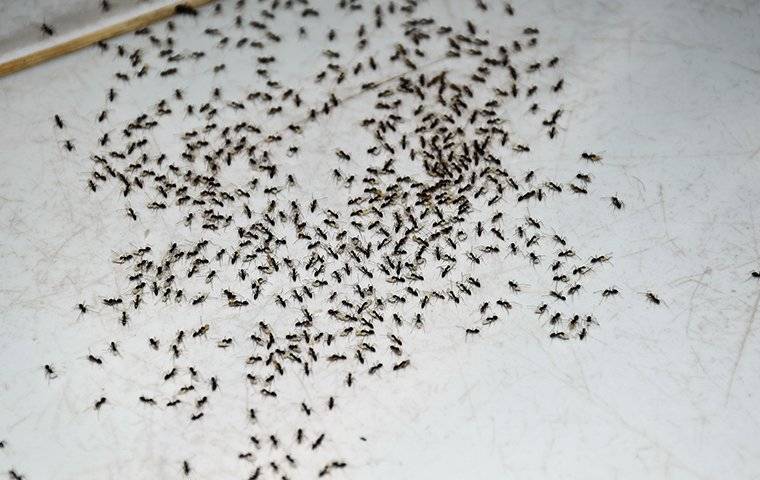 If ant hills are popping up on your lawn and ants are marching back and forth from food sources, Go-Forth Pest Control is here to solve the problem. Our professionals have the solution you're looking for. Trust our team to get the job done right so you can stop finding these annoying little critters all over your property.
Spend your time outdoors ant-free after calling us for ant control in Franklinville. Once we've done our job, take note of these preventative tips to stop ants from taking up residence on your property again:
Address areas of high moisture.
Seal potential entry points into your property like cracks and gaps.
Store food and trash properly in sealed containers.
Keep floors and surfaces as clean and sanitized as possible.
Keep firewood, vegetation, and tree branches away from your property's structure.
These simple tips can make a meaningful difference in the long run when it comes to the number of ants that return to your property. Remember that we're always here if the ant population gets out of hand again. Our family-owned company will stop ants from pestering the family you love whenever you need us.
Mistakes Franklinville Homeowners Make To Attract Spiders
No one likes to see creepy, crawling spiders all over their home. Many homeowners don't realize they might accidentally invite more spiders into their space.
Check out these common mistakes homeowners make that attract spiders:
Keeping a cluttered environment
Storing firewood close to their property's structure and on the ground
Leaving entry points like cracks, crevices, and gaps unattended to
Letting other pest populations thrive on their property
Instead of making these mistakes, take note of what you can do to stop spiders from invading your house. Then, call us to schedule your appointment for spider control.
Commercial Pest Control In Franklinville
We're here to protect your business with the best services in town for commercial pest control in Franklinville, NC. We go above and beyond to respect your unique property and cater to the needs of your business. With discreet and effective services, we help to preserve the brand voice you've worked so hard to build while protecting your valued employees and customers from having to deal with pests.
We're honored to be the choice of local business owners for all their pest control needs. Reach out to our team to learn more about how we can help protect the property you've invested in by stopping pests from causing contamination and potential property damage. We're here to help, so don't hesitate to call today