Termite Control In Garner, NC
Do you think your home or office in Garner has termites? Go-Forth Pest Control of Raleigh can help get rid of them with our services. Termites can cause a lot of damage to any home or building so it is important to get a professional to help with the extermination process. Don't wait till they cause more damage, get our pest control company out to help now.
Here at Go-Forth, we use the Sentricon system to help bait the termites out of your home. We install the green stations around your home that attract the termites to it. Our technicians monitor these stations year-round to make sure they are refilled and working to protect your home or office from termites. Call Go-Forth today or click to get a free quote on our termite services now.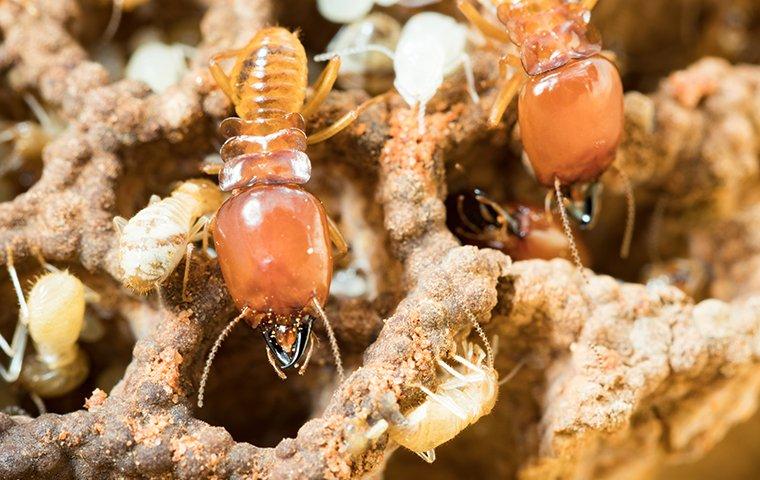 Termite Facts
Termites can cause a lot of damage fast. They reproduce quickly and travel in hundreds to eat through the wood on your property. They are hard to spot on your own; because of their size and color they tend to blend in with the wood. If you notice your floors creaking or windows are hard to open, you may have termites. Also, if you notice some decaying wood it may be infested with termites.
Termites come in different species. Over 2,300 species of termites are found around the world, and 45 species are found in America. Having these thousands of species infest your property can be a serious problem, especially to your home. Don't let all those species of termites infiltrate your home, immediately call a local exterminator near your area for fast resolution.
Termites can survive without sleeping because they never sleep! They eat for 24 hours straight. Because of this, your wood might be gone quickly especially if there are a great number of termites present in your home. Don't wait for the structure of your home to crumble before you make a move. Once you see signs of termites in your home, quickly call a pest control company which can provide excellent services.
How We Get Rid Of Termites
Due to their tiny size, termites are hard to fight. But at Go-Forth, even the tiniest pests, insects, and bugs are never a problem. We use the latest advanced technologies that are powerful in eliminating termites in your home. Our local exterminator in your area can work within your needs. When you call us for pest control, we will inspect your home meticulously before applying the right treatment to ensure that we won't cause any damage to you, your family, and your home.
You can put 100% trust in us as we perform pest control services in your home because we only give the finest and satisfying results. Don't let those termites eat all the wood inside your home. Immediately contact Go-Forth as your local exterminator, and we will be on your doorstep right away! Call us today!
Termite Company Near Me
We are a local termite control company near you in Garner. We provide high-quality termite control which completely eradicates termites inside and outside of your home. We serve our customers even in local areas. Call us today!
Our Reviews
Read some of our reviews and see if Go-Forth can help with your termite extermination in Garner today.
Other Pest Control Services For Garner, NC