Professional Pest Control For Raleigh, NC Properties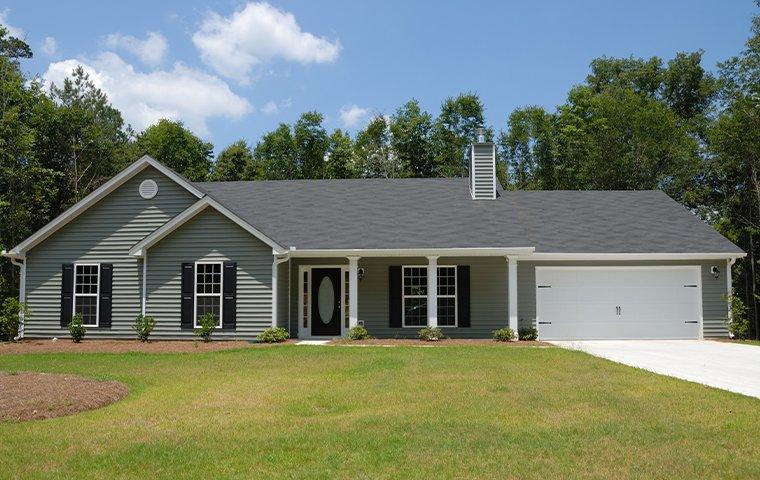 Raleigh is the capital city of North Carolina and is known for being a part of the Research Triangle, named after the many technological and scholarly institutions around Raleigh, Chapel Hill, and Durham.
To protect your Raleigh home or business from the wide variety of pests that live in our area, the professionals from Go-Forth Pest Control provide excellent residential and commercial pest control solutions.
With over 50 years of experience in the pest control industry and a commitment to the communities we serve, Go-Forth Pest Control is the right choice for all of your pest control needs.
If you're tired of finding pests in or around your Raleigh property, our skilled pest professionals have you covered.
Get in touch with Go-Forth Pest Control today to find out which of our pest management plans is right for you.
Home Pest Control In Raleigh, NC
When pests invade your Raleigh home, they're more than a simple annoyance you can sweep under the rug and deal with on a different day. Pest infestations are a major problem for homeowners, which is why professional home pest control services are crucial. At Go-Forth Pest Control, we've been proud to offer excellent residential pest control solutions for over 50 years. No matter what type of pest problem you're facing, you can depend on our experienced technicians to get rid of it in a timely fashion. Don't wait for pests to take over your Raleigh property and put the health of your family at risk. Instead, turn to Go-Forth Pest Control for ongoing residential pest control services you can trust.
Commercial Pest Control In Raleigh, NC
Invading pests threaten the security and reputation of your Raleigh business. Not only do pests introduce harmful bacteria and damage important equipment, but they also drive away your loyal customers. The most effective way to protect your commercial property from pest threats is with professional pest management services from Go-Forth Pest Control. Our commercial pest control process includes thorough inspections, high-quality treatments, and superior protection against unwanted pest invaders by utilizing friendly, effective services.
For years, we have kept businesses in Greensboro, High Point, Winston-Salem, and beyond free of destructive and dangerous pests. If you're ready to say goodbye to commercial pest problems, get in touch with the professionals here at Go-Forth Pest Control today. We're ready to develop a comprehensive commercial pest control plan that covers the unique needs of your Raleigh business.
Our Pest Control Services & Plans
How Bed Bugs Can Make Their Way Into Raleigh Commercial Facilities
Bed bugs are interesting pests. They have no wings, they can't fly, and they can only crawl about three to four feet per minute. So how do bed bugs spread so quickly from one location to the next? Bed bugs are hitchhiking pests, which means they travel from one area to another by climbing onto the bags, clothing, and belongings of unsuspecting individuals. Unfortunately, this makes bed bug infestations nearly impossible to prevent. If one of your customers carries bed bugs into your Raleigh commercial facility, it can jumpstart the spread of an entire bed bug infestation within your business.
If bed bugs have taken over your Raleigh business, your best option is to reach out to the skilled pest management professionals here at Go-Forth Pest Control. We provide professional, safe treatments designed to eliminate your bed bug infestation at its source. Don't allow bed bugs to drive away your customers. Instead, give a call to Go-Forth Pest Control today to learn more about how we handle bed bug infestations.
The Four Most Effective Ways To Reduce Mosquitoes On Your Raleigh Property
Mosquitoes are a major problem here in Raleigh due to our warm, humid summers. These tiny pests are known for leaving behind itchy red welts, ruining outdoor events, and spreading a wide range of dangerous diseases. When it comes to reducing the mosquito populations around your Raleigh property, it's important to minimize factors that may attract them to your property in the first place. Reduce the mosquitoes on your Raleigh property by implementing the following mosquito prevention tips.
1. Keep your gutters free of leaves, sticks, and other organic debris to prevent rainwater from building up and providing a location for mosquitoes to lay their eggs.

2. Eliminate all sources of still or standing water, which mosquitoes depend on to breed and reproduce.

3. Keep your lawn trimmed short regularly to minimize areas where mosquitoes can land and rest.

4. Install fans around outdoor amenities and recreational areas. Many pests, including mosquitoes, like to avoid flying in the "wind".
Although mosquito prevention tips are helpful, the most effective way to reduce the mosquito populations around your Raleigh home or business is with a little help from the technicians here at Go-Forth Pest Control. We'll work with you to target and eliminate the source of your mosquito problems. Reach out to us today to get started on your first treatment.
Expert Raleigh Exterminators With The Best Treatments
You Shouldn't Worry About The Treatments That We Use
Hiring a reputable insect extermination company in Raleigh, NC means you don't have to be concerned about the health or environmental impacts of your insect control treatment. Standard insect extermination companies use the Integrated Pest Management process, aimed at using the safest and least amount of product possible to get effective results. You don't have to be worried, but rather be aware and educated about what process your pest control company is using.
Ensure You Hire An Exterminator That Knows What They're Doing
Most reputable insect exterminators will tell you they have had to do a follow-up after a botched job at least once. Prevent an inexperienced bug exterminator from coming into your house by doing your research beforehand. You must check to ensure the extermination company has the required state and local certifications, and ensure they have a trained entomologist in their employ who you can discuss your concerns with.
Real Estate Inspections/Termite Inspections In Raleigh, NC
Termites can be very destructive insects. Termites will eat away wood that is moist and touches the ground. We offer termite inspections in Raleigh, NC. These inspections are also called real estate inspections and are required by buyers when they are looking to buy a new property in Raleigh.
Pest Control Near Me
Zip Codes We Service Near Raleigh
We service the following zip codes in the area of Raleigh, North Carolina:
27610, 27603, 27606, 27613, 27616, 27604, 27615, 27612, 27609, 27614, 27607, 27617, 27608, 27601, 27605, 27602, 27611
We also serve nearby towns and cities around Raleigh, NC like Cary, NC, Chapel Hill, Durham, NC, Apex, NC, Morrisville, NC, Garner, NC, and other towns in Wake County.
Pest Control In North Carolina & Beyond
Go-Forth also serves High Point / Greensboro and the rest of the Triad area and other areas like Charlotte, NC, Columbia, SC, Wilmington, NC, Hickory, NC, and Greenville, SC.