Professional Pest Solutions For High Point, NC
High Point is one of the hidden gems of North Carolina, but the attraction isn't much of a secret to local pests. They know how enjoyable our High Point homes and business are to visit, which is why we seem to get more than our fair share of invaders. If you try and deal with pest issues yourself, you'll be stuck on the hamster wheel of pop-up pest problems. What if you let Go-Forth Pest Control protect your home and business with our award-winning pest technicians and over 50 years of experience in the Carolinas?
Choosing us means choosing an A+ rating from the Better Business Bureau, the kind of quality that earned us the 2012 Angie's List Super Service award and the same quality that provides guaranteed services for hundreds of homes and businesses all over High Point and the surrounding areas.
Pest Control Services In High Point, NC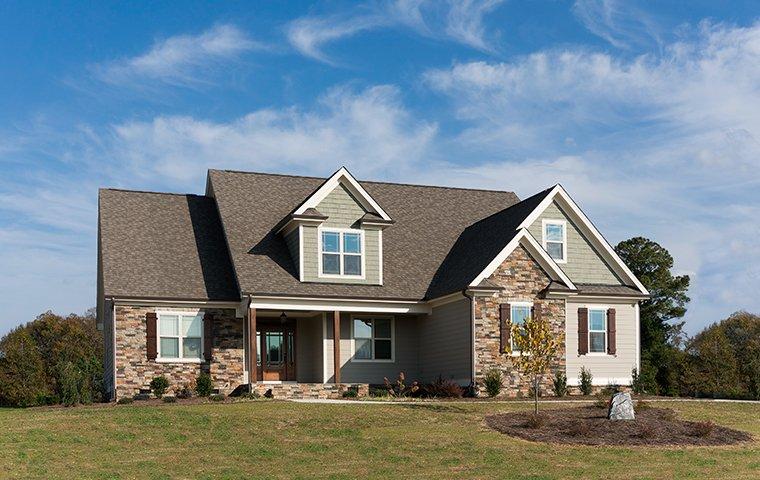 If you're searching for a family-owned, locally operated extermination company that understands the pest control, termite control, and lawn care issues facing homeowners in the Piedmont Triad area, look no further than High Point, NC's very own Go-Forth Pest Control!
We can help in areas around High Point, such as Jamestown. Give us a call today to help with all your pest control needs.
Our professional team of High Point pest control technicians & exterminators have fought numerous pests and termites in homes and businesses in the area for more than 55 years, and we offer a wide range of services to meet the individual needs of our commercial and residential customers alike.
General Pest Control
Go-Forth Pest Control is proud to provide general pest control services to homes in High Point, NC. Whether you spot termites or bed bugs in your home, you can rely on our High Point pest control technicians to get the job done right the first time. We proudly offer homeowners same-day service, EPA-approved pest extermination methods, discounts for regular service agreements, and much more.
Termite Control
For more than 55 years, Go-Forth Pest Control has been providing homeowners across the Triad area with premier termite control services. Catch them before they do serious damage to your home's foundation - rely on our High Point termite control professionals. We also offer termite inspections for real estate homes.
Oftentimes homes in the High Point area are the largest investment that homeowners will make in their lifetime. Regardless of your level of investments, protecting your home is extremely important for local business and homeowners. Since termites are often the largest source of damage to North Carolinian's homes, choosing the right termite treatment company is possibly the most important decision that a homeowner can make to protect their home.
Our Sentricon system with Always Active technology is like buying a termite security system for you home. Every night when you go to bed, you can rest assured that Go-Forth Pest Control's service will be working through the Sentricon System stations 24/7. These prevent termite infestations in many High Point-area homeowners' homes.
Ant Control
Did you know that it is proven that ants can do more damage to your property than termites? With state-of-the-art extermination equipment and extensive experience in ant control, our High Point exterminators can rid your home of fire ants, house ants, carpenter ants, black ants, and more!
Bed Bug Control
Bed bugs often go undiscovered for too long. Upon suspicion of a bed bug problem, one should seek professional help urgently, as these pests can spread from beds, to furniture, to clothing, drawers, closets, and more. Count on Go-Forth's bed bug control experts to take care of your bed bug problem in the Piedmont Triad region today.
Mosquito Control
Mosquitoes are not only annoying pests, they can also carry diseases that may be dangerous to humans. Eliminate the mosquitoes infesting your home's lawn with the help of our High Point mosquito treatments. Our High Point mosquito control experts have more than 53 years of experience eliminating mosquitoes across the Triad area.
Insect Control
Have you been trying to rid your home's lawn of wasps, hornets, or other stinging insects? Rely on High Point's insect control specialists at Go-Forth Pest Control. Stinging insects are not only aggressive but can also deliver life-threatening stings - get help today!
Commercial Services
At Go-Forth Pest Control, our expertise goes beyond just residential pest control services. We are also able to provide premier pest control services to a variety of commercial buildings in High Point, NC, including HOAs, property management buildings, nursing homes, offices, and industrial complexes.
Flea Control
Fleas are pests that can cause harm to our family and our pets. Having the capability of jumping up to 10 feet in distance, they can easily travel from your pet's fur, to your furniture, to your hair, and other places. Call Go-Forth Pest Control's professional flea exterminators to get rid of your flea problem immediately - Go-Forth won't let you down!
Between our unique pest control service plans and customized lawn care options, you won't find an extermination or yard and turf care company delivering the same level of personalized service anywhere else. Whether you're dealing with ant control, termite control, or weeds, Go-Forth Pest Control is here to deliver friendly, reliable service to High Point, NC and surrounding areas in the Piedmont Triad region.
Call High Point's lawn care and pest control & extermination experts at (336) 841-6111 today! We are proud to offer same-day service and FREE estimates. You can also fill out the form on our contact page for a FREE service quote.
Home Pest Control In High Point, NC
Protecting your home from health hazards and damage is one of your main duties as a homeowner. However, you probably have too much on your plate to deal with continuous pest issues yourself. What if you had the guaranteed services of an award-winning pest technician at your disposal?
With our general residential pest control packages, we can create a custom protection plan that will guarantee a pest-free environment in your home. Plus, we offer specific pest treatments like termite control, mosquito services, bed bug eradication, and more, along with real-estate inspections. Our quarterly treatment plans provide guaranteed protection, but we can also treat your home once if you prefer to give us a try without paying for a long term plan. Give us a call today to start protecting your investment and your family with the assurances of experienced professional pest control.
Commercial Pest Control In High Point, NC
In a community like High Point, reputation is essential for every business. When customers don't think your facility offers a healthy or safe environment for shopping, eating, or living, then they'll probably never give you a chance. That's why commercial pest control is so important, especially with the power and accessibility of social media.
To avoid your pest problems getting posted all over the Internet, you need the guaranteed monthly service packages of Go-Forth Pest Control. Our customizable plans will be perfect for your facility and your budget, no matter what kind of business you run. For health care to hotels, apartment complexes, office spaces, and more, Go-Forth Pest Control has professional commercial technicians who know exactly what to look for on your property. Plus, we use eco-friendly solutions to barricade pests from invading between our visits, which we put our Go-Forth guarantee behind. Give us a call today to start protecting your investment and your hard work with the power of 52 years of pest control experience.
What High Point Homeowners Ought To Know About Bed Bug Control
Bed bugs are some of the most frustrating pests to get rid of in the entire world. Unfortunately, they're also very difficult to prevent. Since they're small (only about five millimeters around) and very slow crawlers, they travel into homes by hitchhiking on various items like luggage and secondhand furniture. Whenever you travel or buy used furniture, make sure to check anything you're bringing into your house for hitchhiking bed bugs, as they'll seize any opportunity to gain access to a place to hide out. Once you stop moving and go to sleep on your mattress or a piece of furniture, they'll come out of hiding to suck on your blood through a feeding tube.
Since you'll rarely ever see bed bugs themselves, you're more likely to spot a bed bug infestation by noticing the following signs:
Rust-colored rings from excrement

Musty odors on furniture

Itchy, red bites on your skin in a straight line
If you do notice these signs, don't try and take care of the problem yourself. Since bed bugs will burrow beneath the surface of your mattress or furniture cushions, trying to vacuum or spray them will only get a few of the pests on the surface, exposing you to the health problems of a prolonged infestation. To protect your home from bed bugs, you need Go-Forth Pest Control's guaranteed bed bug solutions that include treatment for the entire house and a follow-up appointment as well. Call Go-Forth Pest Control today.
The Health Hazards Cockroaches Pose To Homeowners In High Point, NC
If you ask anyone, even our certified, experienced, hardened pest technicians, they'll tell you that cockroaches are nasty looking. Unfortunately, roaches are even nastier than they look. Spending most of their lives in sewers, dumpsters, and landfills searching for loose crumbs, they pick up a variety of bacteria that is very harmful to humans.
Once they invade your home, they'll spread the bacteria all over your meal-preparation and food storage areas, putting you at risk of diseases like salmonella, E. coli, and more. They'll also secrete a pathogen as they move around that causes severe allergic reactions in many people.
Since they're afraid of humans and light, you'll hardly ever notice more than one or two roaches here and there. However, there could be hundreds more within your walls. If you're worried about the health effects of a potential roach infestation, call Go-Forth Pest Control for an inspection and our guaranteed roach treatments.
Call Go-Forth Pest Control In High Point, NC
Whether you're dealing with ant control, termite control, or weeds, Go-Forth Pest Control is here to deliver friendly, reliable service to High Point, NC and surrounding areas in the Piedmont Triad. We serve customers from Winston-Salem, Greensboro, Burlington, NC, Clemmons, Kernersville, Jamestown, NC, Lexington, Thomasville, and Asheboro. Call High Point's lawn care and pest control & extermination experts at (336) 841-6111 today! We are proud to offer same-day service and FREE estimates.
Review From a High Point, NC Customer: Sarah D.
"We really like Go-Forth. They are very professional, always on time and friendly. Whenever we have needed them to come respray, they have gone out of their way to get it done quickly."
Pest Control Near Me
Zip Codes We Service Near High Point, NC
We service the following zip codes in the area of High Point, North Carolina:
27265, 27260, 27262, 27263
We also serve nearby towns and cities around High Point, NC like Greensboro, Winston-Salem, Burlington, NC, Clemmons, NC, Lexington, Thomasville, and other Guildford County cities.
Pest Control In North Carolina & Beyond
Go-Forth also serves Charlotte, NC / Matthews, NC, and other areas like Raleigh, NC / Durham, NC, Columbia, SC, Wilmington, NC, Hickory, NC/ Lenoir, NC, and Greenville, SC.