Pest Control Near Columbia, SC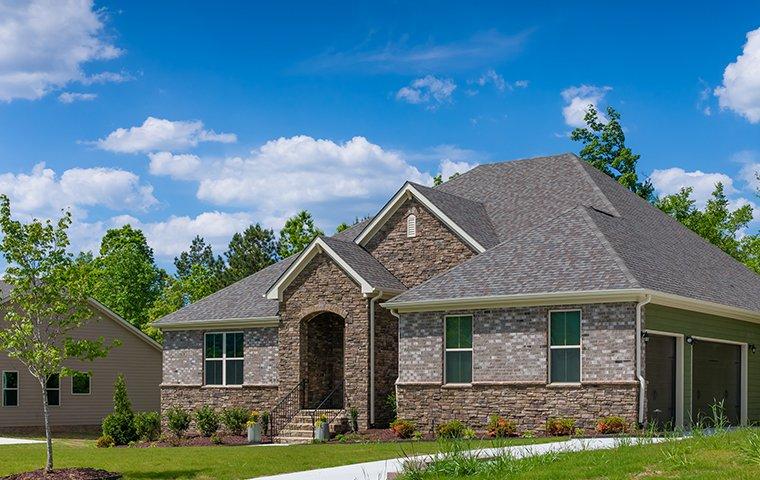 Are you in need of pest control in Columbia, SC? We're local exterminators near you for bugs like ants, mosquitoes, mice, fleas, roaches, and flying pests. We service areas near Columbia, SC including Elgin, West Columbia, Irmo, Winnsboro, Blythewood, Lexington, Camden, Lugoff, Ridgeway, Hopkins, and surrounding areas.
Our pest management company has been exterminating pests since 1959 and we can help you get rid of bugs like mosquitoes, termites, ants, roaches, rodents, spiders, hornets & wasps, fleas, and bed bugs.
Our Columbia exterminators have decades of experience dealing with all types of insect infestations, and we ensure to provide an excellent experience to each and every one of our customers for both residential and commercial locations. Let's get you protected from pests today!
Well-Reviewed Pest Management Company
You will be happy to know that our pest management company has hundreds of highly revered reviews created by past and present customers. Each review accurately represents the exceptional pest problems we have solved here at Go-Forth. From our customer service representatives, to the field exterminators, we are well-reviewed on Google, Facebook, and many other pages. Read our reviews and let us help you with your pest problems today, our customer reps will be happy to quote you over the phone or chat, let's get rid of your pest problems once and for all, give Go-Forth of Columbia, SC a call.
Experienced Exterminator Company
We have been providing pest treatment services since 1959, and have the exterminator experience that you need to help you eliminate all pests you may have at your home or business. Specifically in your Columbia, SC area, our local Columbia exterminators have experience and knowledge treating all types of pest infestations in your local area. If you're looking for an experienced company in the pest extermination business then give Go-Forth a call.
Residential & Commercial Exterminator Services In Columbia, SC
We're proud of serving both residential and commercial customers with our pest control services in Columbia, SC. Our well-reviewed commercial exterminators are equipped to treat all types of bugs in diverse building situations. Here at Go-Forth, we are capable of exterminating pests from restaurants, offices, nursing homes, hotels, motels, grocery stores, and more.
Our Columbia Service Plans
Most-Requested Pest Control Services
Here are the most-requested pest control services in Columbia, SC:
Cockroach Extermination Service
Cockroaches are repulsive creatures that can be very difficult to eliminate without the help of a professional. They multiply extremely fast, and in almost no time you could have hundreds of cockroaches within your home or business. Upon the discovery of a single cockroach, one should contact the Go-Forth team to readily assess and assist in controlling the situation.
Mosquito Extermination
In the South Carolina heat, mosquito control is a commonly requested service. Along with being aggravatingly persistent in biting and intruding on your outdoor activities, a mosquito problem should be addressed immediately because mosquitoes can transmit disease to you, your family, or your pets.
Real Estate Inspections
We also offer termite real estate inspections for those that are in the process of selling their home in Columbia, SC. Protect your property with Go-Forth's powerful and safe termite control service and make sure your home is termite-free with our termite real estate inspections today.
Rodent Extermination
Rodent control is one of our top services offered here in the Columbia, SC location. Rodents can enter your home through holes in your windows, cracks on your doors or walls, or even through the roof via tree branches. These intrusive pests can also bring other pests to your home along with them, such as fleas.
Termite Extermination
Termites can be very destructive to your home, causing costly damage and repair. Termite infestations create millions of dollars in damage yearly to home and business owners, therefore one should contact an exterminator promptly upon the slightest suspicion of a termite problem.
Common Services In Columbia, SC
Ant Extermination
Ants can be very destructive. These pests can damage the soil and disrupt your home's foundation, that's why if you see them you must act quick, since if you see one, there's probably thousands of them close. Ants have found their way into the Columbia, South Carolina area. These pests may not seem as dangerous, but you must get rid of them as soon as possible. Thankfully our company has a lot of experience dealing with these pests.
Bed Bug Extermination
Don't let the bed bugs bite!! Are you waking up with red irritated bites and rust-like stains in your bed around the Columbia, SC area? Don't let these blood-sucking pests ruin your sleep! Call one of our local exterminator professionals and we will come and inspect your home for bed bugs, recommend the appropriate, most efficient treatment, and follow up with you to make sure the pest treatment is successful and effective for any local pest population. When you see one of these pests you must act quick since bed bugs like to multiply fast; in no time you will have an infestation on your hands. These pests will also damage your skin if you're allergic or diabetic.
Flea Extermination
If you suspect that you have a flea problem in your home, call Go-Forth to assist you, your family, and your pets. Fleas are yet another pest specialty of ours and we will get your flea infestation exterminated. Fleas, larvae, and their eggs can still stick around after self-cleaning and treatment. To rid of these pests successfully, you need to treat them with something a little more potent. That's where we come in!
Roach Extermination
Roaches are one of the most difficult pests to exterminate since these pests multiply too fast. We're talking about German roaches, the small brown ones. German roaches are pests that will multiply very fast. Even if they have no food they will eat each other, so they are definitely survivors. There is no pest as tough to kill as German roaches; they may be small but their strength comes in their numbers. For roach extermination in Columbia, SC we have a special plan where we spray these pests every month.
Rodent Extermination
Mice and rats can be a major pest problem when it comes to the damages they create. These rodents are known for biting and chewing fabric, furniture, and even structural parts of buildings like wires, floorboards, and walls. We can help you spot and eliminate entry areas and help you gain control over any kind of rodent population anywhere near Columbia. Let us set you up with a rodent extermination plan which includes other types of pests as well.
Spider Extermination
Some spiders can be very poisonous. These pests can be found in attics, crawlspaces, garages, sheds, etc. These pests like dark and humid places since that's the perfect environment for other bugs or pests, and thus a source of food for them. Basically, they like cluttered spots since that's where they can hide. Call us to help you remove spiders and other pests with our inexpensive pest removal plan.
Both the brown recluse and black widow spiders are native pests to all of North Carolina. One bite from them can be seriously dangerous and cause medical issues ranging from neurological problems to death. These dangerous little fellows like to hide out in all kinds of dark areas of your house. That's why it is important to have the inside and outside of your house sprayed for spiders with Go-Forth Pest Control of Columbia.
Wasp Extermination
Wasps are pests that when they sting you it hurts. Pests like these must be scared away from your property before they multiply. Some people can also be allergic to these types of pests and therefore you must be careful. If you find a hive somewhere on your property don't hesitate to call for our help; we have been helping people get rid of their wasps and other types of pests and flying insects for decades.
Pest Control Near Me
Zip Codes We Service Near Columbia, SC
We service the following zip codes in the area of Columbia, South Carolina:
29223, 29229, 29210, 29203, 29209, 29212, 29205, 29201, 29204, 29206
We also serve nearby towns and cities around Columbia, SC like West Columbia, SC, Forest Acres, SC, Cayce, SC, Dentsville, SC, Irmo, SC, Lexington, SC, Orangeburg, SC, and Newberry, SC
Pest Control In North Carolina & Beyond
Go-Forth also serves Greensboro / Burlington, NC / Wisnton-Salem and other areas like Raleigh, NC, Charlotte, NC, Wilmington, NC, Hickory, NC, and Greenville, SC.