Ants are common pests, and Raleigh residents commonly deal with these pests on their own. Some folks have success with ant control—but most don't. In many cases ant control fails, and it isn't readily apparent until ants get in again, and again, and again. One of the primary benefits of professional ant control is that licensed pest management professionals use field-tested methods, ant identification, and an experienced selection of control products to get results. If you need ant pest control in Raleigh, it is best to contact Go-Forth Pest Control. You can navigate to our contact page for assistance. If want to learn how to take care of ants on your own and learn why ant control in your yard and home is a challenge, read on. We're happy to help you find answers to your ant control questions.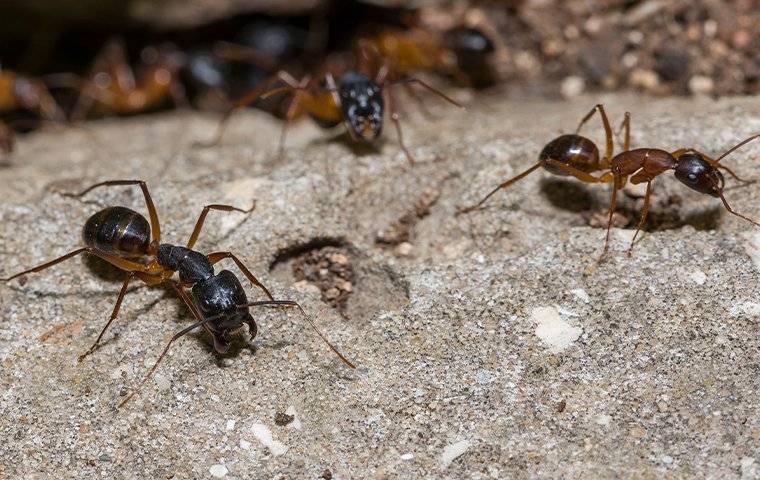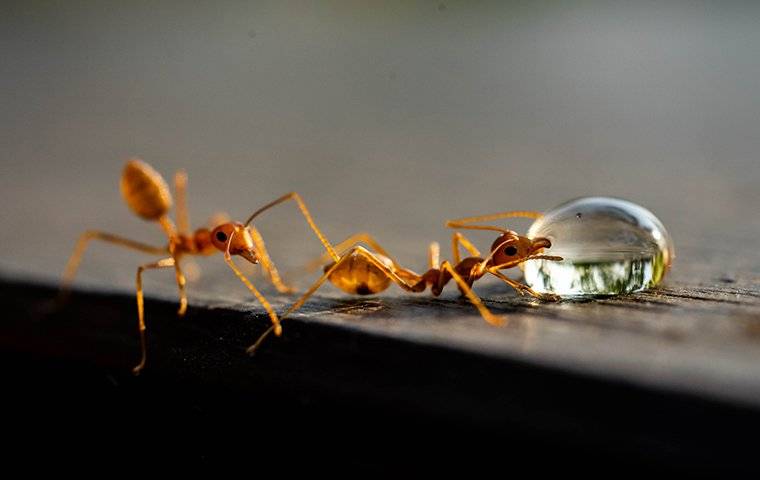 How Can I Tell What Type Of Ants Are Invading My Raleigh Home?
Most pest ants are tiny black insects (or dark brown insects that look black) which makes it hard to tell what species you're dealing with on your Raleigh property. It becomes slightly easier when you consider the types of ants we have in our area. Let's break them down into three categories.
Spreaders: Most of the ants that get into Raleigh homes have one thing in common, they spread harmful bacteria from dirty trash receptacles, fecal matter, and open wounds on pets. They have no business being in your food cabinets. You don't need to know which little black ants you're dealing with, only that it is bad to have ants crawling on surfaces and dishes or getting into stored foods.
Homewreckers: The largest black ants that get into Raleigh homes are black carpenter ants. It is bad to have black carpenter ants in your home because they create tunnels in wood and establish nests inside. Carpenter ant workers range from ¼ to ½ of an inch in length and have major and minor workers in a colony. These two facts can help you easily identify them as all other black or dark brown ants are less than 1/8 of an inch long.
Stingers: While a few ants in our area can sting, fire ants are definitely the worst. You don't have to wonder if you have these ants because they are red or red with a dark abdomen. It is easy to distinguish them from black or dark brown ants. At the first sign of these pests in your home, contact a licensed pest control provider for fire ant control. A sting from a fire ant is a serious matter for anyone allergic to stinging insect venom.
That is the lay of the land. When you see ants on your property or in your home, they are one of these types of ants. While it is best to keep all ants out of your Raleigh home, carpenter ants and fire ants are a greater threat to property and health.
Will An Ant Infestation Go Away On Its Own?
In some cases, an ant infestation in Raleigh will go away on its own. But it won't go away fully. The definition of an infestation is the presence of a large number of insects or animals. When you walk into your kitchen and see thousands of ants, and do nothing, you may not see those ants the next day or for several days afterward. They may go away on their own. When they do, the infestation is gone. But the threat remains. It is essential to understand how this works and how an infestation may persist. It is mostly tied to a food source. What do ants eat? Many things that may surprise you.
Food sources ants may find in your home:
Food on dirty dishes next to the sink
Pet food in dishes on the floor
Fruit in wastepaper baskets
A soiled juice spot on the floor
Organic matter inside trash receptacles
Dirty recyclable items
Pet or pest feces
Dead insects
Living insects
Stored foods
Salt, sugar, crumbs, and other debris
Meat
Candy
When ants find a food source, they tell the others. One by one the ants come and get pieces of the food and bring them back to the nest. As they return, they lay down a pheromone scent for other ants to follow. Some ants lay down pheromones to and from food sources. The stronger the scent, the more ants you'll have entering your home. Once the food has been gathered, the scent of the trail will weaken and the ants will stop entering your home in large numbers. For this reason, you may think your ant problem is solved, particularly if you attempt to apply ant control. But ant control treatments that don't address the colony and lead to colony elimination will not effectively address your problem. The colony will continue to send scouts into your home and an infestation can occur again at any time.
The worst scenario of an ant infestation is that the ants establish an indoor nest. You'll likely notice when this happens as you'll see large numbers of ants more frequently. An exception to this is a carpenter ant infestation. These ants often feed on outdoor food sources, such as honeydew and nectar. They can live in your home for years and cause considerable damage without ever invading your pantry or kitchen food packages.
Are Ant Baits Effective To Use In My Home?
Baits are a common method for addressing ant problems. Do they work? Yes. They can work to stop ants and address ant colonies directly. If you are successful, you can say goodbye to your ant infestations in Raleigh for a while. But baits aren't a complete solution by themselves, and baits can fail or make ant problems harder to address.
Why are baits not a complete solution? The ants in your yard are always applying pressure to your home. When you eliminate a colony, another can move in and use the same entry points to enter your home. At some point, you're bound to have another invasion if you don't seal potential entry points and apply control materials to stop ants from getting inside. These methods aren't easy to apply. It is best to have a licensed pest control professional take care of exclusion work and routine applications of a liquid barrier around the exterior of your home.
Why do ant baits fail, and how do they make problems worse? There is much to say on this topic. It is difficult to know where to start. Here are a few facts (in no particular order). These facts will help you better understand the challenges of applying effective ant control.
Some ants prefer protein. Some ants prefer sweet food sources. Some ants just outright reject certain baits. It is essential to select a bait that your problem ants will take and evaluate the success of the treatment.
When too much bait is applied, the ants can learn that it is not safe to eat it and become bait averse. Ants that learn to avoid baits are harder to control and may cost more to treat.
When too little bait is applied, the ants may start exploring another area before enough bait is gathered. A large colony may require the application of bait in several areas.
Weather conditions can interfere with the success of baits. You must place baits in appropriate locations.
Baits and treatment products are sometimes impacted by household cleaners and other indoor conditions. You must consider these conditions and potential challenges.
Ant control for homeowners is typically challenging because there is no silver bullet. We can't just say, "Use this product, apply it here, and do this to make sure it works." Our pest management professionals have training and experience with all of the nuances of ant control and management. This took hours of study and on-the-job problem-solving.
Professional Services Are The Best Way To Handle Ants In Raleigh
If you're looking for the best ant control solutions in Raleigh, professional services are the way to go. A professional will identify your ants, track their routes, locate nesting areas, consider conducive conditions, select appropriate products, apply products where needed (in the correct amounts), monitor the effectiveness of your control program, and make alterations as needed. Once the ants are no longer in your home or accessing your home, a professional can assist you further by applying routine exterior treatments and targeted ant control around your home.
Are you in Raleigh? If so, contact us for ant and general pest control. We use industry-leading control solutions to address Raleigh pests. We can help you select the right services for your needs, concerns, and budget. Our top priority is to help you find the right pest control for you. Reach out to us today to schedule a service visit from one of our friendly and knowledgeable pest professionals, and to learn more about our residential and commercial pest control services in Raleigh. We look forward to helping you say goodbye to your Raleigh ant problems.