Fleas are tiny insects that spring onto animals and live in their fur or hair. Once a flea gets onto your pet, it is able to remain, using the claws on its legs, and it can survive by feeding on blood drawn from the skin with its mouthparts. For your pet, it is as unpleasant as it sounds. You may know this firsthand because fleas can bite people too. The big difference is that fleas don't tend to stay on people. They will bite and fall off. We aren't nearly furry enough for them. So, the folks that have the worst trouble with fleas are those who have pets, and most pet owners are familiar with flea removal and flea prevention. If you have pets and have not dealt with a flea problem yet, you'll find some great tips here. If you don't have pets and don't realize that a home without pets can still get a flea infestation, you'll also find some helpful information and tips here. Before we get started, we want to quickly remind you that we have pest professionals on staff to provide you with advice about flea pest control in Richmond. Feel free to call us or connect with us through our contact page at any time. Go-Forth Pest Control is an industry leader in pest management.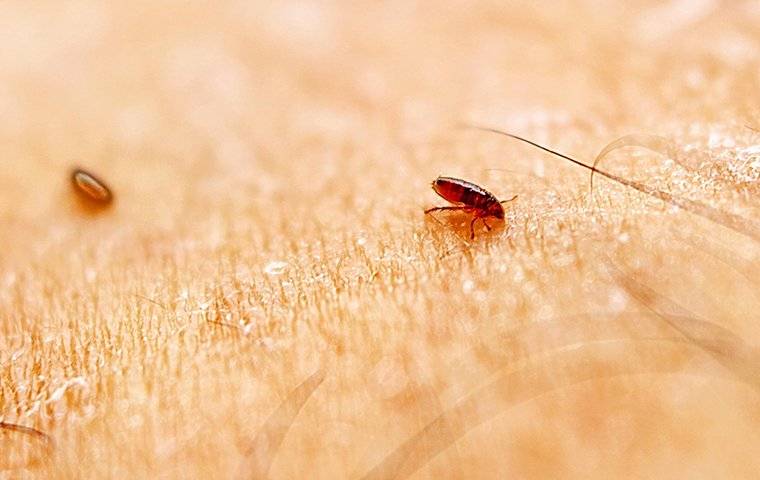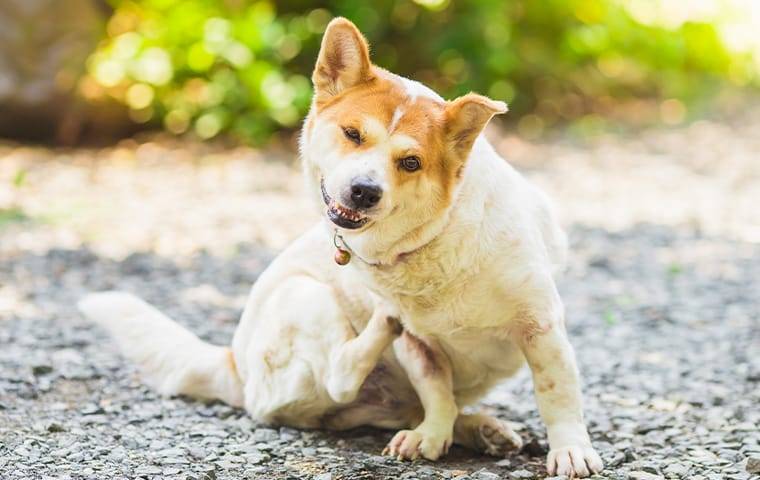 What Attracts Fleas To Richmond Homes?
Long before you need to contact a professional about flea control in Richmond, there are ways to prevent a flea infestation. Below, we'll offer practical tips for how you can do that. But your flea prevention will have a greater chance of success if you know what attracts fleas to your home. Let's break it down.
Fleas have an impressive ability to spring through the air. You might think that a flea will hop into your yard. But it takes a lot of energy for a flea to jump. It is much more likely that an animal will carry fleas into your yard. As you consider what attracts fleas, you first need to consider what attracts animals, particularly raccoons or opossums. They tend to carry the species of flea that prefers to get onto dogs and cats.
When fleas are carried into your yard, eggs and flea dirt fall off the host animal. If eggs hatch near flea dirt, the newly hatched fleas have a greater chance of survival. So, it is important to consider nests, dens, and spots where animals bed down. If you address harborage, you can make it harder for fleas to develop and survive.
Another factor that will allow fleas to survive near your home is moisture. A damp perimeter can help a flea population thrive. But fleas are robust insects that can survive in harsh conditions. Moisture control alone is not a solution. It is only one step in an all-natural flea-prevention plan.
If fleas are carried into your yard and find a suitable location to reproduce and grow a population, your pets can pick them up when they go outside. Fleas cocoon themselves, lie in wait, and leap onto dogs and cats as they pass. Then, without realizing it, your pets bring fleas indoors.
When you find fleas on your pets or in your home, should it concern you? Let's quickly look at how fleas impact the health of your pets. Doing so will provide the incentive to take the steps needed to keep fleas out of your home.
Why Fleas Are Dangerous Pests
The key issue with fleas is that they feed on blood. If they feed on your dog or cat for a long period of time, it can result in anemia. It is also uncomfortable for your pets to have these tiny pests crawling on them. But there are other concerns to consider.
Flea bites are itchy for your pets. For some pets, that itch is unbearable due to a condition called flea allergy dermatitis (FAD). If your pet's hair falls out, it is likely due to FAD.
When your pet scratches itchy flea bites, the wounds can open and get infected.
If your pet is bitten by an infected flea, sickness may result. The most common flea diseases are murine typhus, tungiasis, bartonellosis, and tularemia.
Dogs and cats can get tapeworms from fleas. They get these worms by ingesting fleas.
Some flea-borne diseases cause minor or no symptoms in pets but impact human health in a far more negative way. Keep this in mind.
Flea prevention is hard work unless you hire a pest control company to apply routine treatments around the exterior of your home to guard against indoor flea infestations. That is why we provide these facts about diseases. Fleas aren't just annoying pests. They can impact the health of your entire family.
How To Protect Your Family And Pets From Fleas
Now you have the answer to the question, "How do fleas reproduce?" And you are familiar with how they come into your yard and get into your home. It is time to get into the meat and potatoes of our article. How do you stop fleas? Let's start by looking at how you can use what you've learned so far.
Wildlife Carry Fleas Into Your Yard: The secret to preventing fleas is to deter wildlife. That makes sense, right? Here are a few tips.
Keep bagged trash in covered containers and secure the containers so they aren't easily knocked over by raccoons.
Rake up nuts in your yard. Many animals eat nuts.
Protect your bird feeders. The seeds inside bird feeders are a delicious treat for many animals.
Animals will also eat obvious food sources, such as fruits and vegetables. Use fencing material to guard these from wildlife pests.
Prevent Animal Harborage: When animals bed down or create a nest, fleas are provided the conditions needed for development and reproduction.
Use hardware cloth to protect the void under your deck or shed.
Use expanding foam to protect joists.
Use caulking to seal around plumbing and PVC pipes.
Trim landscape vegetation to open up the space and make it hard for animals to hide.
These simple steps will help keep animals out of your home and away from your exterior.
Manage Pet Activity: If you have dogs, it is smart to have an outdoor recreation area surrounded by a fence. What a fence does is contains your dogs so they can't explore bushes, shrubs, tall grass, and other vegetation where fleas are hiding. You may also consider walking your dog with a leash and staying away from vegetation.
Flea Control Products: Your veterinarian can guide you in the selection of many products that will protect your dogs or cats. Some keep fleas off. Some eliminate fleas that get on. Some work to address fleas that have found a place to develop within your home. Here are a few examples:
Flea collars
Pet flea baths
Powders
Topical sprays
Medication
It is wise to make sure you speak with a veterinarian so that you choose the right products for your pets—and the humans who come in contact with your pets and the products you use.
All-Natural Flea Management: There are many methods to help you deal with fleas without using control materials. Here are some suggestions.
Use a flea comb to check your pets for fleas when they come in from outside. Give your pet a flea bath or apply powder when fleas are found.
Vacuum regularly while correcting a flea infestation to remove flea eggs and larvae.
Wash and dry pet bedding to eliminate fleas hiding in this critical location.
Wash and dry your bedding if needed.
Use a vacuum to clean every inch of your couch and living room chairs, using the crack and crevice attachment.
If fleas have found a suitable location to develop and reproduce, more control is needed. What gets rid of fleas that have spread through your home? Let's take a look.
Why Professional Flea Treatment Is Worth It
The best way to get rid of fleas is to hire a licensed pest professional to treat your home. Why? There are many reasons. Some may surprise you.
A professional will inspect your home and evaluate your infestation to ensure the right strategy is used.
Professional-grade products are properly formulated and proven effective.
Professionals follow strict guidelines established by the federal government and the manufacturers of the products used.
A professional treatment addresses the source of the infestation, not just the symptom. There are many ways to eliminate fleas. But you can eliminate fleas every day and never get ahead of a flea infestation.
DIY flea control can drive you crazy. Fleas behave unexpectedly and can find their way around conventional treatments.
A professional will evaluate the success of your treatment program and make sure no fleas remain.
When you want fleas gone, and you want to know for sure they're gone, professional flea control is the right choice. If you're in Richmond, reach out to Go-Forth Pest Control for assistance. We can help you get the results you want.