Professional Pest Solutions In Welcome, NC
With a population of around 4,000 people, the suburb of Welcome, NC, is a small town, and it's certainly a welcoming place. However, is it possible to be too welcoming here in Welcome? Local pest populations are unwelcome guests that seek entry into our homes and businesses all year long. The threat of pest infestation is very real, which is why it's important to take your pest control needs seriously. The team at Go-Forth Pest Control is here to protect you from the dangers of pest infestation.
We are a third-generation, family-owned, and locally-operated company that is proud to provide complete pest control and lawn care solutions that local property owners can rely on. Since 1959, our pest experts have been providing residential and commercial pest solutions to properties throughout Welcome and the surrounding areas. Whether you're currently dealing with pests, or you want to secure preventive pest protection for the future, we're here to help you. Reach out to us today for Davidson County pest control you can count on.
Home Pest Control In Welcome, NC
Go-Forth Pest Control provides complete residential pest control solutions that Welcome homeowners can depend on. With more than 50 years of pest control experience, we have the extensive knowledge and expertise to get the job done right. We offer nine service plans to meet your needs:
My Elite (Total coverage and customized service)
My Elite Plus (My Elite plus additional benefits)
Botanical Essentials (Green methods of pest reduction)
The Basic (Most popular service plan)
Monthly Pest Control
Bi-monthly Pest Control
Premium Lawn Services
Commercial Pest Control
Termite Control (Accredited WDIR termite inspectors)
Not only do we offer quality pest control and lawn care solutions, but we're also experienced in effective TAP insulation, and real estate termite inspections. From start to finish, our goal is to bring you quality pest solutions and personalized attention.
What You Need To Know If You See Carpenter Ants Around Your Welcome Property
Carpenter ants can cause real property damage for home and businesses owners. As they chew through moisture-damaged wood to make their nests, they gnaw through the wood and create satellite colonies throughout the property. If you see carpenter ants around your Welcome property, here are some consequences you should be wary of:
Damage to fence posts
Destruction of decks and patios
Nesting inside of and destruction of wood
Production of droppings and excrement
Structural damage and warping
Weakened structural timbers
To effectively protect your property from the threat of carpenter ant infestation, the best thing to do is contact the pros. Here at Go-Forth Pest Control, we are experienced in dealing with these wood-nesting ants, and we guarantee to remove them from the premises completely. Reach out to learn more about our ant control services.
How Can I Tell If My Welcome Home Is At Risk For Spider Problems?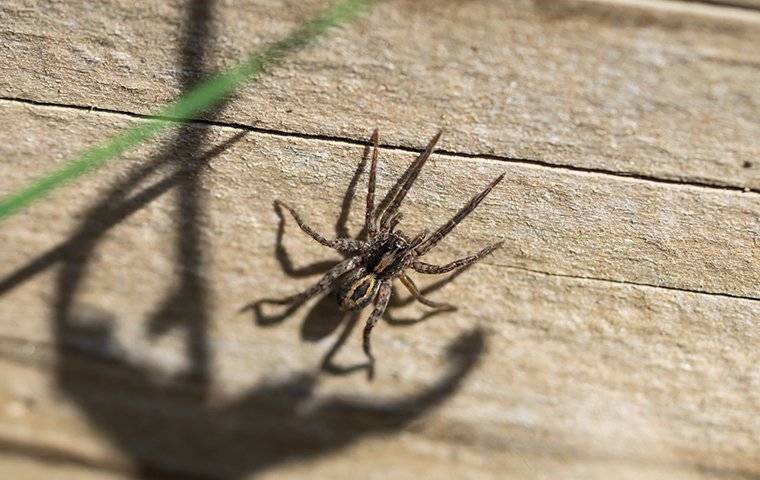 When it comes to spider activity around your home, the good news is that most spiders are harmless. But it's still a good idea to address your spider control needs. Spiders are no homeowner's idea of a welcomed guest, and it's important to detect their presence as soon as possible. So, how can you tell if your Welcome home is at risk for spider problems?
There are a variety of spider attractants around your home, including the presence of other insects in the home. Spiders feed on insects, and as they follow their food source, they enter your home in search of any household insects they can find. So, it makes sense why spider activity may also indicate insect activity.
Spiders also love dark spaces that provide shade and shelter. They prefer cool, damp areas, and can likely be found in remote areas such as garages, attics, and basements. If you think you may have spiders in your Welcome home, give us a call. Go-Forth Pest Control offers complete spider control and prevention solutions you and your loved ones can depend on.
Commercial Pest Control In Welcome, NC
If your Welcome business experiences a pest infestation, customers aren't going to feel so welcome there anymore. Not only, but when word gets out that you have a pest problem, your reputation is put at risk, and there's nothing like bad word-of-mouth to prevent future business. That's why professional pest protection is the way to go. Here at Go-Forth Pest Control, our commercial pest control services protect a long list of local facilities and businesses, such as HOAs and property management, nursing homes, offices, and industrial complexes.
We're experienced in dealing with all kinds of infestations, no matter how big or small. Our service plans are customized to meet your needs, and we cater each treatment to the specifications of your facility. Whatever pest problem your business is facing, get in touch with us today. We're ready to guard your business against the detriments of pest infestation.