Pest Control Services In Winston-Salem, NC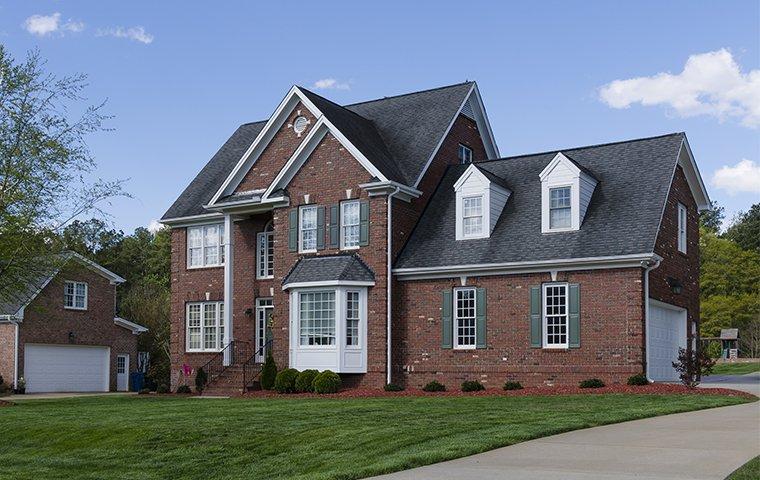 We offer pest control in Winston-Salem, NC. Our expert exterminators have years of experience getting rid of all types of pests in the Piedmont Triad area. Our company has extremely effective treatments for spiders, mosquitoes, mice, termites, fire ants, roaches, and termites.
Our pest control company is one of the best-reviewed exterminator companies in the area. At Go-Forth, customer service is our top priority, and we do everything we can to make sure every customer is satisfied with our pest control treatments because there is nothing like living in a pest-free home.
Often starting at under $100, our services plans vary from exterminating basic indoor pests to controlling lawn insect infestations, as well as termite control and lawn care.
Read more about our service plan pricing to select one that best fits your needs, and contact us to sign up and begin your pest control treatments. If you would like to learn more about what our exterminator company can do for you, don't hesitate to reach out to our staff. We love hearing from our customers, and look forward to providing you with exceptional pest management and removal.
Serving Winston-Salem Customers Since 1959
At Go-Forth we proudly offer general pest control services to homes in Winston-Salem, NC and we have been doing so since 1959. Whether you are experiencing a termite infestation or you have spotted bed bugs in your home, you can count on our technicians to expertly eliminate pests from your property. Why is Go-Forth the preferred pest exterminating company? Not only do we have more than 55 years of experience in general pest removal but we offer our customers same-day service, EPA-approved pest extermination methods, and discounts for regular service agreements.
Best-Reviewed Pest Control Company
We're a well-reviewed pest control company in the area, we're proud of our work, and our reviews speak for themselves. We're one of the best-reviewed exterminator companies in the local area.
Termite Control
Suspect a termite infestation in your home? Rely on the our termite control experts who have more than 53 years of experience getting rid of termites in Triad-area homes - get rid of pests today. If not caught early, termites can do serious damage to a home's infrastructure. We are also available for termite inspections in real estate homes - call us and live pest-free.
Ant Control
Ants can do more damage to your home than termites, so it is important to eliminate them as quickly as possible to enjoy living in a pest-free household. Our ant control professionals use state-of-the-art extermination equipment and a personalized approach to pest control to get rid of fire ants, house ants, carpenter ants, black ants, and more.
Mosquito Control
Mosquitoes can carry a variety of diseases that are harmful to humans which is why it is important to eliminate them from your residential property as quickly as you can. Our mosquito control experts have more than 53 years of experience eliminating mosquitoes from homes across the Winston-Salem area and the rest of the Piedmont Triad. Call us to get your household and back yard pest-free.
Flying & Stinging Insect Control
Have you spotted wasps, yellow jackets, hornets, or other stinging insects invading your home's lawn? Our flying and stinging insect control experts at Go-Forth can help! Stinging insects are not only annoying but they have the potential to deliver life-threatening stings. Contact us today to get started and enjoy a pest-free home!
Commercial Exterminator Services
At Go-Forth Pest Control, our expertise goes beyond just residential pest management. We are also able to provide expert commercial exterminator services to a variety of commercial buildings including offices, industrial complexes, HOAs, property management buildings, and nursing homes. Call to speak with one of our exterminator experts to get rid of your pest problems today.
Flea Control
Fleas can be harmful to your loved ones and your pets, as they spread rapidly and leave itchy, irritated bites. If you discover a flea infestation, it is important to contact Go-Forth's flea control experts to eliminate your flea problem for you. Call as soon as possible, as fleas can spread from your pets, to your furniture, to your hair, and more. Yikes!
Rodent Control
Go-Forth Pest Control's professionally trained rodent exterminators have decades of experience in complete rodent elimination. To protect your home or business from contamination, infestation, and future rodent issues, contact the Go-Forth team to help you today.
Cockroach Control
As soon as you spot one cockroach in your home or business, you should seek professional help. Typically if one of these pests happens to be seen, there are a lot more of them hidden somewhere close by. As these pests are extremely revolting, contaminating your food and reproducing rapidly, it is undeniable that Go-Forth Pest Control's cockroach exterminators are the ones to call.
Same-Day, Local Pest Control Service In The Area
For unparalleled service from a pest control and lawn care company that knows the specific issues faced by local customers choose Go-Forth. We offer quality extermination and lawn and turf care services in the area of Winston-Salem, Clemmons, Bethania, Kernersville, Lewisville, Rural Hall, Tobaccoville, and Walkertown. Say goodbye to pests and pest problems, live in a pest-free household. Call us today at (336) 793-2999 to schedule an appointment with one of our pest exterminators! To request a FREE pest service quote, please fill out the form on our contact page we will be in touch with you as soon as possible.
Pest Control Reviews
We take tremendous pride in earning the highest possible reviews from our pest control customers in Winston-Salem. Our ownership, office staff, and technicians in the field all work to achieve a common mission. Our mission is for our standards to be higher than our customers' expectations and our competitions' best efforts. We will have a profound professionalism that is seldom found in a locally-owned and founded company, giving our employees, customers, and community a sense of pride to be associated with Go-Forth Pest Control.
Pest Control Near Me
Go-Forth Pest Control now offers pest extermination in Columbia, SC. If you are moving to this area or know anyone who needs help in this city please call us today!