Pest Control In Yadkinville, NC
Located in Yadkin valley, Yadkinville, North Carolina, was originally an agricultural center, but it's now turned into a charming, bustling little community. Unfortunately, pest problems have only increased as the population in Yadkinville has, but Go-Forth Pest Control can help.
Here's what local residents should know about our home pest control services, how we serve commercial properties, what problems ants cause in Yadkinville, and why you should use Yadkin County pest control for stinging insect control.
Residential Pest Control In Yadkinville, NC
At Go-Forth Pest Control, our residential services cover a variety of pests – from ants and stinging insects to bed bugs and termites. We also offer lawn care services for residential homes in Yadkinville. Keeping your yard looking beautiful and your home free of pests can feel like a full-time job, but our pros can handle the legwork for you.
When you work with us, you'll get:
A free, no-obligation quote
An inspection of your property's interior and exterior
An individualized treatment plan that eliminates existing pests from your home and prepares you to prevent future pest problems
Flexible follow-up visits to make sure your pest problems don't return
For the best home lawn care and pest control, call the experts at Go-Forth Pest Control.
Ants & Common Pest Problems In The Yadkinville Area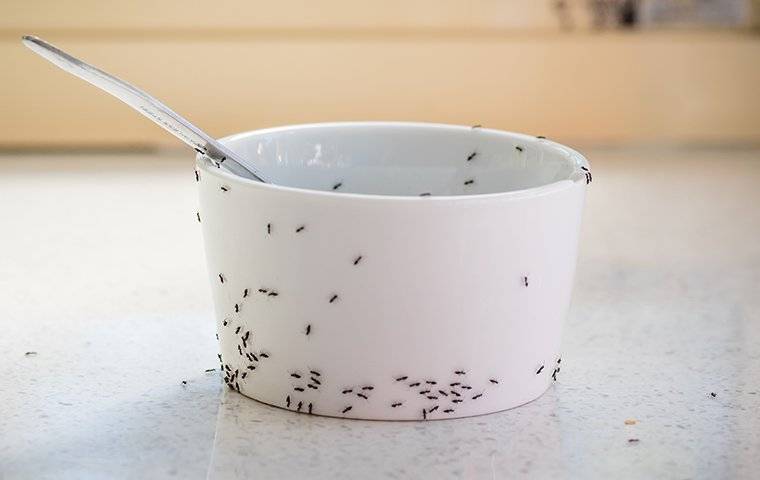 Ants, as well as other pests, can cause multiple problems in Yadkinville homes, including:
Nuisance: All ants, regardless of the type, are nuisances. Ant colonies can house thousands of ants at a time, and these pests aren't shy about hunting for food. If you have an ant infestation, these pests tend to make an appearance anytime you've got food out. Their large numbers also make them much harder to get rid of, as some infestations can even grow to the point that the ants have multiple colonies across your home.
Spreading Bacteria and Disease: While cockroaches spread bacteria, rodents can spread dangerous diseases. Not all ants spread bacteria, but pharaoh ants can. These pests can sometimes carry salmonella and streptococcus, and if they manage to contaminate your home or food, this bacteria can lead to gastrointestinal issues or food poisoning.
Biting and Stinging: Although most ants aren't aggressive, they can sometimes bite and cause mild discomfort. Even more painful are the stings from a swarm of fire ants.
Property Damage: Carpenter ants, which chew through and nest in wood, can cause structural damage in your home if the infestation goes untreated.
Whether they are dangerous, causing damage, or simply a nuisance, ants have no place in your Yadkinville home. For the best in ant control services, call Go-Forth Pest Control today.
Why You Shouldn't Try To Handle Stinging Insects In Yadkinville Alone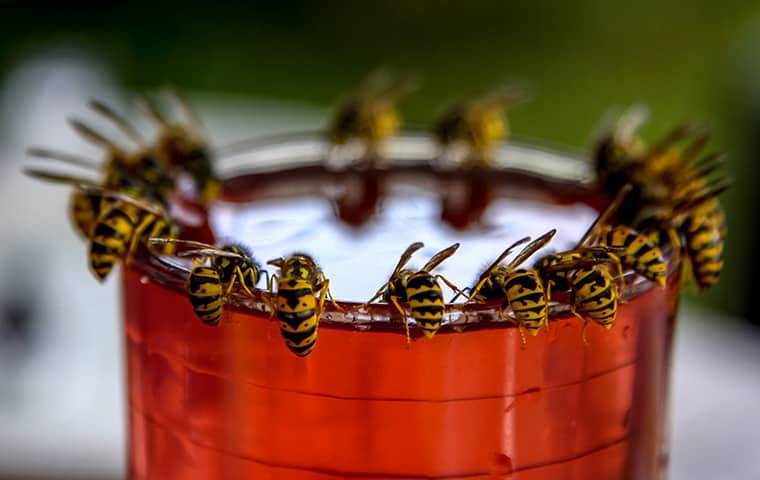 The most dangerous stinging insect for Yadkinville residents is wasps. Although a single wasp sting may be painful but not dangerous (unless you're allergic), these stinging insects still have the potential to be dangerous, especially in larger groups. For anyone who is allergic, a wasp sting could land you in the hospital or even be fatal without medical intervention.
Many types of wasps, especially yellow jackets, can be aggressive defenders of their nests. If you stumble upon a nest by accident, wasps may attack in swarms, and the anatomy of their stinger makes it easy for them to sting you as many times as they want without consequence. If you're stung by enough wasps, these pests could still land you in the hospital, regardless of whether you're allergic or not.
Because they roam freely, wasps can be difficult to prevent, but there are some natural ways to deter them from your property, such as:
Avoid leaving out any kind of food, including protein-rich foods or sugary items.
Make sure you've got a tight seal on your garbage cans and compost piles.
Cover any holes in the ground, which yellow jackets may use for nests.
Keep windows and doors shut during the warmer months, and replace torn screens.
Regularly check for evidence of wasp nests on your property but avoid approaching, even if it seems abandoned.
You should never try to handle a wasp nest on your own. If you suspect you have a wasp nest on your property, call the pros at Go-Forth Pest Control to learn more about our stinging insect services.
Commercial Pest Control In Yadkinville, NC
Although some people may assume that pests don't invade businesses, this isn't true. Yadkinville commercial properties are just as much at risk for dealing with rodents, termites, bed bugs, or any other pest as a home is.
Some of the most common businesses that we serve in Yadkinville and surrounding areas include:
HOAs and property management
Offices and industrial complexes
Nursing homes
If you're looking for commercial pest control near you, Go-Forth Pest Control can help.