Professional Pest Solutions In Bear Creek, NC
Located between Siler City and Goldston, the beautiful city of Bear Creek is home to a small population of a little over 3,400 people. The city may be small, but it's best known for its vast farmlands and beautiful terrains that attract new residents and retain current residents.
Residents and visitors alike enjoy the great outdoors with the area's outdoor live music events and the many parks and nature trails the city features. In addition to there not being a shortage of things to do, the best part is that businesses and residents enjoy all the city's beauty every day!
As a Bear Creek resident, nature is just around the corner or in your backyard! However, with all the beauty of nature the city offers, it comes with its own unique pest challenges.
At Go-Forth Pest Control, we have been in the pest control industry since 1959 and have proudly served Chatham County and the surrounding areas. Over our years of services, we've earned the title of the top-ranked Chatham county pest control provider through our dedication to high-quality and affordable services.
To learn more about our residential and commercial services, call Go-Forth Pest Control today.
Home Pest Control In Bear Creek, NC
When it comes to protecting your home, we at Go-Forth Pest Control feel as strongly about safeguarding your home as you do. We follow only the highest standards in residential pest control management.
Our team of highly-trained and knowledgeable staff, equipped with years of experience and expertise to solve even the most challenging pest infestations, will also prevent future infestations from happening.
Here's what you can expect with our services:
Ongoing home protection with our Perimeter Protection Plan (PPP)
Organic pest prevention
Crawlspace enclosure to keep out pests and moisture
Integrated Pest Management (IPM) solutions for the prevention and treatment of existing pest problems
Prevention and eradication of Termites, Cockroaches, Fleas, Rodents, Bed Bugs, and Fire Ants
Once we conduct our initial inspection, we'll recommend the best treatment based on your home's unique pest control needs. We give clients the option to choose alternative treatment methods instead of conventional treatments. We offer non-toxic and low-toxic methods and Integrated Pest Management (IPM). Call Go-Forth Pest Control today to schedule your inspection.
Why Fleas Invade Bear Creek Properties And How To Stop Them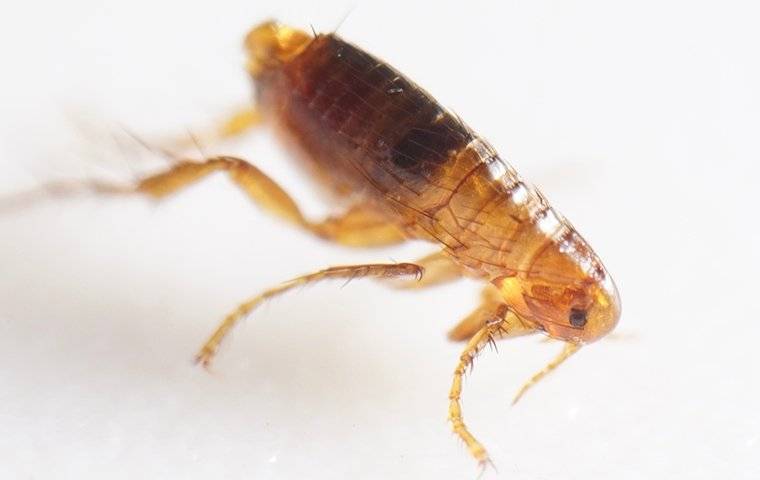 The sole mission of fleas is to feed on blood, and unfortunately, you or your pets are the perfect food sources for them.
Fleas are tiny, wingless parasites that range from 1/8 to 1/16 inches long, with flattened bodies and strong legs that allow them to jump from host to host. When these pests enter your home or yard, it's most commonly due to wild animals getting into your yard, like various types of rodents. Fleas also enter our properties due to being out in nature and not taking the necessary precautions to protect ourselves from them.
On your property, preventive measures like adding perimeter fencing to keep wild animals out will go a very long way in keeping these pests away. When out in nature, wearing protective clothing and avoiding high grass and vegetation areas will also protect you.
However, if your property has a flea infestation, the only way to get rid of it is through professional pest control services. At Go-Forth Pest Control, our flea control methods target every stage of their lifecycle to ensure complete eradication. To begin your flea control services, give us a call.
The Truth About House Flies In Your Bear Creek Home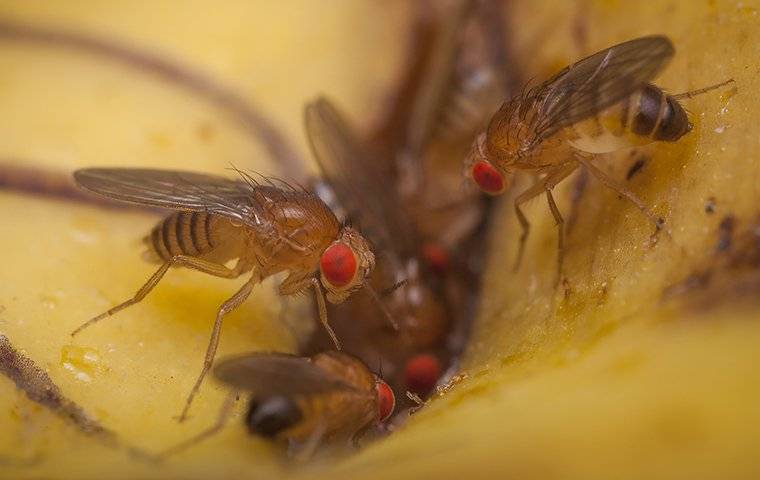 The truth about flies in your Bear Creek home is that they're gross, annoying, and don't belong. These filthy pests defecate wherever they land and have the potential to spread various diseases such as dysentery, typhoid, and cholera.
To reduce fly activity in your home, you'll want to keep your drains clean, add screens to your windows, empty and clean your trash cans regularly, and ensure your garbage cans have tight lids. However, if you have a fly infestation in your home, you should call our experts at Go-Forth Pest Control. We have the proper tools and expertise to rid your home of a fly problem of any size. Just give our team a call for a quote.

Commercial Pest Control In Bear Creek, NC
Just as you would have a security system installed in your business to alert you of intruders, you do the same with pests when they try to intrude and invade your business. Go-Forth Pest Control is here; think of us as your pest alarm system.
We understand the importance of running a pest-free business, not only for the health and safety of your employees and customers but also to have and maintain a good business reputation, especially with Bear Creek being such a small community. The last thing you need is a tarnished reputation. Remember, we are here to help your business remain 'in business.'
Take a look at our commercial pest control treatment options:
Baits
Insecticides
Pest Monitoring Devices
IPM
Organic Pest Control
While we know that no one business is alike, no matter what industry you're in, whether restaurant or office building, we understand how to remove a pest infestation of any size effectively. Call our expert technicians to get your commercial pest control services started today.