Professional Pest Control In Belville, NC
Belville is a small but steadily growing town that overlooks the scenic Brunswick River. The community primarily consists of families who want access to Wilmington with a little bit of added space. In addition to the area's reputable school system, there is a scattering of local businesses and industries, winding suburban streets, and lots of important amenities. But small towns like Belville are no strangers to pest problems, as some people might think.
At Go-Forth Pest Control, we provide professional pest control in Belville that is built on more than 60 years of experience. Today, we combine our reputation for excellence with a commitment to growth and innovation. Each of our technicians is vetted, highly qualified, and courteous, and we offer an extensive selection of services. Whether you're a homeowner who wants to be proactive about pests or a business in need of Christmas light installation, we have you covered. For more information on our pest control offerings, please call us today.
Residential Pest Control In Belville
A pest problem can develop in your home no matter how diligent you are or the time of year. Rather than try to address these issues on your own, consider pest control in Belville from Go-Forth Pest Control. We bring more than 60 years of expertise and a dedication to innovation to each home we service. In order to keep your home pest-free throughout the year, we have designed the following programs:
The Basic: This plan is for the homeowner who wants to take a proactive stance against pests. We provide quarterly exterior treatments for pests like ants, rodents, and millipedes.
My Elite: Our mid-level plan increases the number of visits you receive in a year, includes standard interior treatments, adds protection from stinging insects, and ensures priority booking.
My Elite Plus: If you're looking for the broadest range of coverage in one plan, My Elite Plus also targets ornamental pests, fleas, ticks, mosquitoes, and fire ants.
We also offer customers the option of pest-specific solutions for termites, mosquitoes, and bed bugs. For more information on our residential pest control services in Belville, call us today.
Belville's Guide To Mosquito Control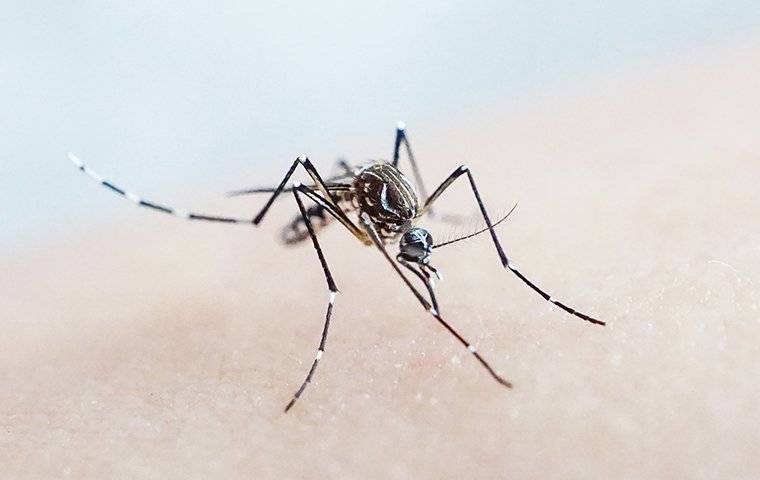 Mosquito season in Belville can be very uncomfortable for the town's residents, but it can also be potentially dangerous. These pests have the ability to transmit the pathogens that lead to Eastern equine encephalitis and West Nile virus in people, as well as heartworm in family dogs. In order to avoid mosquitoes, try the following tips:
Routinely turn over standing water in places like bird baths and kiddie pools.
Clear away yard clutter like branches, leaves, landscaping trimmings, and other debris.
Make sure that no areas of stagnant water collect in buckets, outdoor gear, and grill covers.
Try planting items like lavender, citronella, herbs, and marigolds, all of which contain natural properties that might deter mosquitoes.
Seek mosquito treatments in Belville from a trusted pest control professional.
For more information on mosquito control in Belville, call Go-Forth Pest Control today.
Are There Poisonous Spiders In Belville?
Belville may be a small, quaint town, but it sees dangerous spider populations just like anywhere else. One of the most common species in the area is the brown recluse spider. This spider is light brown in color and its abdomen is usually marked by a violin shape, though it differs from spider to spider. While they are anti-social, as the name would imply, if the brown recluse detects a threat, they are likely to bite someone. Their bites contain venom and can result in allergic reactions like pain, swelling, and vomiting. These spiders usually live outside amidst brush and yard debris, but they will enter homes looking for food.
Another potentially harmful spider in the area is the black widow. This is perhaps the most iconic species of spider and can be identified by its black coloring and red hourglass marking. Unlike the brown recluse, the black widow waits for prey in its web. If they feel provoked or threatened, they too will bite and release venom. For complete spider control, call the pros at Go-Forth Pest Control today.
Commercial Pest Control In Belville
At Go-Forth Pest Control, we provide pest control in Belville that we customize to your business's exact needs. We combine our six decades of expertise with a taste for innovation in order to provide you with real results. All of our technicians are highly skilled and the products that we use on your property are all EPA-approved.
When you partner with us, you can rest assured that honesty is at the core of everything we do. We provide you with a straightforward and transparent experience that also includes timely responses and a pest-free guarantee. Because we've worked with countless businesses in more than 60 years of operation, we're able to deliver tangible results to every medical facility, school, restaurant, and more that we service. To learn more about our Belville commercial pest control offerings, please call us today.