How To Keep Pests Out Of Your Holiday Decorations In Columbia, SC
November 26, 2021
It's that time of year again to rejoice, eat, drink, and be merry, and deck the halls. With the holiday season bringing forth presents, dinners, and themed events and these festivities requiring a good deal of planning, a lot is occupying the minds of Columbia residents. Whether you are celebrating locally or out of town, what's likely not on the minds of those eager to bask in the glow of holiday cheer are the household pests that like to stow away in cardboard; like the boxes, we store our holiday decorations in.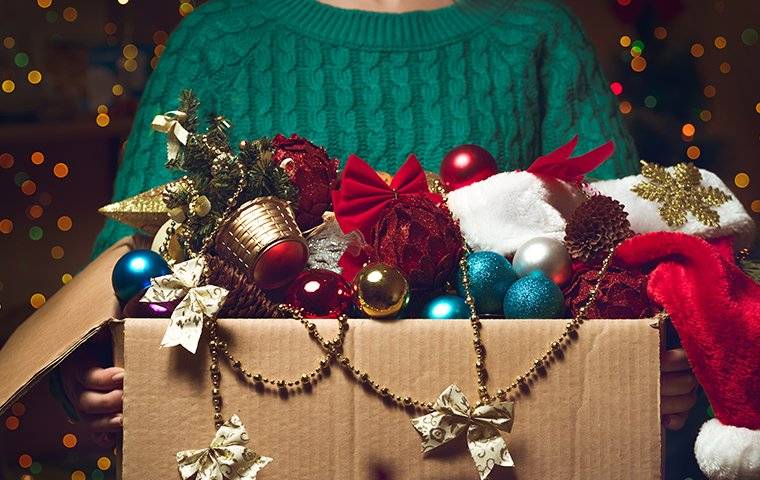 What Kind Of Pests Are Hiding In My Cardboard Boxes?
It's commonplace to store away belongings that are only used occasionally, such as decorations for Christmas and New Year's, in the attic, basement, or garage space of a home. It's also common to store these belongings in cardboard boxes, as these boxes are readily available and come at a lower cost than upgraded and more effective options, like lidded plastic bins.
Aside from the fact that cardboard boxes begin to decompose after five years—while plastic tubs can hold up three times that duration—some pests also feed on cardboard, and thus cardboard boxes serve as both a source of food and shelter for these pests to thrive in your home.
Common household, cardboard-eating pests include:
Cockroaches

Silverfish

Termites

Crickets

Beetles

Clothes moths

Booklice
Attracting these pests into your home can lead to mounting infestation problems that can take place simultaneously. Even worse, the presence of these pests as a food source can also attract other pests, such as rodents, into your home.
A Note On Plastic Bins Vs. Cardboard Boxes
The proper storage of Christmas decorations and other belongings is crucial in preventing a future infestation. The simplest solution is to stop using cardboard to store your possessions to avoid attracting cardboard-eating pests like those listed above. Instead, opt for using lidded plastic bins to securely house storage.
Although plastic bins are generally more costly than cardboard boxes, they are more cost-effective in the long run—especially when you consider the potential damage to items such as clothing, after these boxes have become infested with pests and the associated cost of replacing them.
Tips On Properly Storing Holiday Decorations
When dealing with pests nest in stored cardboard boxes, it's not always easy to tell whether an infestation has occurred. In some cases, these pests can go undetected for a year or more until the boxes are moved or reopened again. To avoid incurring potential damage to your stored belongings, consider the following three tips on how to store away infrequently used items, like Christmas decorations, properly:
1. First and foremost, if you suspect a box has become infested with bugs or other pests, bring that box outdoors before you open it. You may shake out the items as well, but you'll want to follow additional precautions before bringing the items back into the home, if at all.

2. Check items stored in existing boxes for signs of pests. In the case of holiday decorations, signs of a pest problem may include chew marks on the wiring of Christmas lights, caused by rodents, or gnaw marks on the cardboard boxes themselves.

3. It would be wise to swap all cardboard boxes currently being used for storage to lidded plastic containers, bins, or tubs for item protection.
Put Light In This Holiday Season With Go-Forth Pest Control
For more advice on pest control this holiday season, contact Go-Forth Pest Control today. We're all about making life a bit easier for our clients.
In addition to our pest control services, we are offering our Christmas Light Installation Program to give you more time to spend with family and friends this season. Our installers will handle all your outdoor holiday decor lighting, such as outdoor trees, greenery, windows, rooflines, and more. Call us today to celebrate the season in a bigger, brighter way.
Whether you need one or both services, let us be your go-to for pest control management and prevention.
Previous
Next