Quality Pest Solutions For Chapel Hill, NC
If you've lived in Chapel Hill long enough, you understand one thing: we have far too many pests invading our homes and businesses! Unfortunately, home remedies and store-bought sprays are inconsistent, and local pests can be dangerous. So who do you turn to? What if you could have the experience of 52 years in the pest control industry on your side?
At Go-Forth Pest Control, we understand what it takes to deal with the pests in Chapel Hill because we've been doing it for so long. This experience is one of the many reasons why our certified pest technicians are some of the most highly decorated in the state. We've also been honored with 4.8 stars on Facebook and Google, an A+ rating from the Better Business Bureau, and the Angie's List Super Service Award.
From one-time, as-needed treatments for a specific pest issue in your home or business to continuous residential and commercial treatments backed by the Go-Forth Guarantee, we have everything needed to prevent and eradicate pests. Give us a call today to get started or read more about our variety of services.
Pest Control Services In Chapel Hill, NC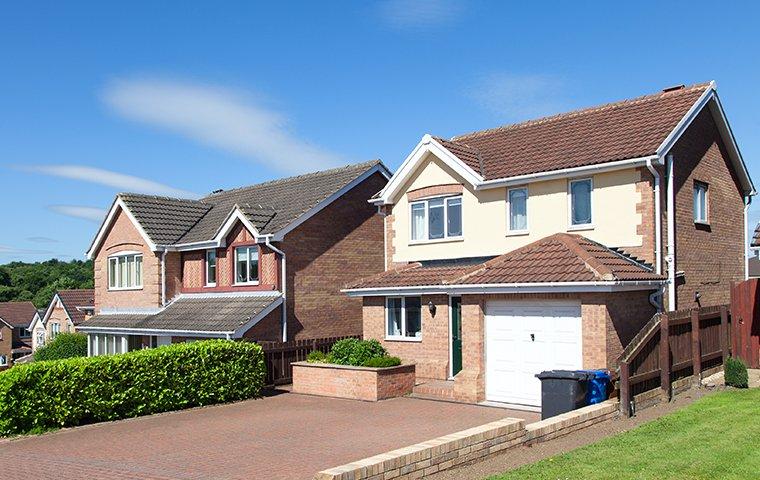 We offer pest control services in Chapel Hill, NC. We are a local, family-owned and operated extermination company that has more than 55 years of experience fighting off pests in the local area. We offer a wide range of residential pest control services and also commercial pest management solutions. We can help you get rid of pests like mosquitoes, termites, rodents, ants, bed bugs, roaches, ticks, wasps, spiders, and any other bugs you can think of.
General Pest Control
Residents around the Triangle turn to Go-Forth Pest Control when they are looking for professional pest control services. Whether you need bug extermination or termite control, our pest control technicians can get the job done right. In addition to our 53 years of experience in pest control, we proudly offer homeowners same-day service, EPA-approved pest extermination methods, and the most advanced technology there is to kill and exterminate pests from your property.
Insect Control
At Go-Forth Pest Control, we are experts at exterminating a wide array of stinging insects including wasps, yellow jackets, and hornets. If you are looking for a professional pest control company that can eliminate these pests from your chapel hill home, look no further than Go-Forth Pest Control of Chapel Hill.
Termite Control
If left unattended, termites can do serious, and sometimes irreversible, damage to a home's infrastructure. Our Chapel Hill termite control technicians are committed to getting rid of termites from your home. We also offer termite inspections for real estate homes. Call today to help you with your termite control problems today!
Mosquito Control
We can drastically reduce the mosquito population surrounding your home with regular treatments. Mosquitoes are not only annoying, they are also carriers of the West Nile Virus and other dangerous diseases. Our exterminators at Go-Forth Pest Control are here for you for eliminating and reducing the mosquito population around your home.
Mosquito Control
We can drastically reduce the mosquito population surrounding your home with regular treatments. Mosquitoes are not only annoying they are also carriers of the West Nile Virus and other dangerous diseases. Our exterminators at Go-Forth Pest Control are here for you for eliminating and reducing the mosquito population around your home.
Ant Control
We have more than 53 years of experience getting rid of fire ants, house ants, carpenter ants, black ants, and more in homes and businesses.
Commercial Services
Go-Forth Pest Control also offers services to commercial buildings including HOAs, property management buildings, nursing homes, offices, and industrial complexes. From our pest control service plans to highly reviewed customer service, you will rest assured knowing that you are working with the most extensive extermination and yard care company in the local area.
Home Pest Control In Chapel Hill, NC
Pest problems in your home can make it the opposite of a comfortable, homey environment. Trying to take care of pest issues yourself can make them worse. When you allow pest issues to linger, you expose yourself and your family to potential health hazards and home damage that all sorts of pests in the Chapel Hill area can bring.
From ants to termites and roaches to bed bugs, pest infestations can be costly. That's why Go-Forth Pest Control offers specific, one-time treatments for all of these problems and more. But we also have continuous service packages that can guarantee a pest-free home in between quarterly visits. When you sign up for our ongoing residential pest programs, we'll make sure that you won't have any pest issues on your property, or we'll come back between visits at no extra charge. Call Go-Forth Pest Control today to get started on a custom plan to keep pests out of your home.
Commercial Pest Control In Chapel Hill, NC
Pest issues in the business you own or manage are always very serious. Even if the pests themselves aren't dangerous or destructive, any pest problem can ruin your reputation, especially if a customer posts a picture on social media. You can never be too careful when pests are involved.
At Go-Forth Pest Control, we take commercial pest control seriously because we understand the struggles of managing a business. We can provide continuous treatments for your business that are guaranteed to keep pests out so that you can do what you do best: provide amazing products or services to the community. From hotels to restaurants, health care facilities to industrial parks, and more, we can treat any business facility with our innovative, eco-friendly solutions and experienced, certified technicians. Call us today to start giving your business the pest protection it deserves.
Chapel Hill's Guide To Effective Ant Control
Whether it's fire ants in the yard, black ants in the pantry, or giant carpenter ants nesting in the foundation of your home, ants will either bring danger or destruction to your property. If you think ant problems aren't a big deal, you could be in for a rude awakening by not doing your part in preventing an infestation. The best ways you can keep ants out of your home include:
Addressing moisture issues

Cleaning regularly

Storing food and trash properly

Sealing potential entry points
Unfortunately, since ants are so small, if they want to get into your home, they'll find a way. Go-Forth Pest Control provides effective ant prevention and eradication treatments that are certified, safe solutions for everyone in your household (except the ants). Give us a call to have one of our award-winning pest technicians come out for an inspection and help you solve your ant problems for good.
Three Easy Tricks To Minimizing Mosquitoes In Your Chapel Hill Yard
Mosquitoes are not only one of the most annoying pests in the world, they are the most dangerous. Did you know that one in every 300 mosquito bites results in the contraction of some sort of harmful disease? Fortunately, there are three easy ways to limit mosquito activity in your yard:
1. Get rid of standing water: since mosquitoes can breed in anything over a half-inch of standing water, dumping out items like wheelbarrows and flowerpots after a rainstorm can help prevent mosquito breeding grounds.

2. Maintain the lawn: by mowing the grass and maintaining your shrubs, you'll limit moisture buildup and limit mosquito attraction to your property.

3. Seek professional assistance: if mosquitoes breed in your areas of standing water just once, their larvae may continue to thrive even after the water is dumped out. Continuous, professional treatments are the only way to limit mosquitoes in a sustainable and safe manner.
With the Go-Forth Pest Control Elite Plus Service package, we can guarantee a mosquito-free property in between our monthly treatments. We'll treat standing water, shrubs, and trees with our eco-friendly spray, along with any other high activity areas. Give us a call today to get started on continuous mosquito treatments that can make your yard a safe and enjoyable place for everyone.
Contact Us Today!
Contact our local experts at (919) 747-4668 for a free estimate on any of our services or to set up an appointment. We proudly offer same-day service to all of our customers! Go-Forth Pest Control is a professional extermination and lawn care business that has been serving homes and businesses in Chapel Hill, NC, Raleigh, Durham, and surrounding areas in the Triangle region with quality and affordable pest control services since 1959.