Reliable Pest Control In Hildebran, NC
Hildebran is a well-situated town that gives its residents easy access to both I-40 and Route 70. The town itself offers good schools, lots of local businesses, and safe neighborhood developments. Hildebran residents also benefit from proximity to nearby campgrounds and parks, as well as Charlotte and Winston-Salem, which are both only an hour away. Unfortunately, pest problems are also a part of daily life in Hildebran, no matter the season.
At Go-Forth Pest Control, we provide reliable pest control in Hildebran so that homeowners and businesses are always protected from pest problems. We have more than 60 years of experience and a deep commitment to innovation. This unique combination ensures that our customers always benefit from the safest and most trusted methods of pest prevention and elimination. For homeowners, we offer the option of several recurring plans, and for businesses, we customize treatment protocols based on our list of important factors. To receive your no-cost quote, please call us today.
Residential Pest Control In Hildebran
At Go-Forth Pest Control, we are dedicated to providing high-quality pest control in Hildebran that keeps your home protected no matter what your concerns are. We have more than 60 years of industry experience that informs our work today. Each of the products that we use to treat your home is EPA-approved and safe for your entire household.
Here are our key residential offerings:
The Basic: If you're looking for a no-fuss preventive plan, The Basic is for you. This program optimizes quarterly visits that focus on the exterior of your home. We address pests like rodents, spiders, and centipedes.
My Elite: This plan increases your coverage to include stinging insects, offers more frequent visits, and makes interior treatments standard. You'll also benefit from priority booking!
My Elite Plus: Our most expansive plan includes coverage for fleas, ticks, fire ants, and mosquitoes.
If your pest concerns are more specific, then we also provide services that target mosquitoes, termites, and lawns as well. For more information on our residential pest control services in Hildebran, please call us today.
Bed Bug Control: What Hildebran Homeowners Need To Know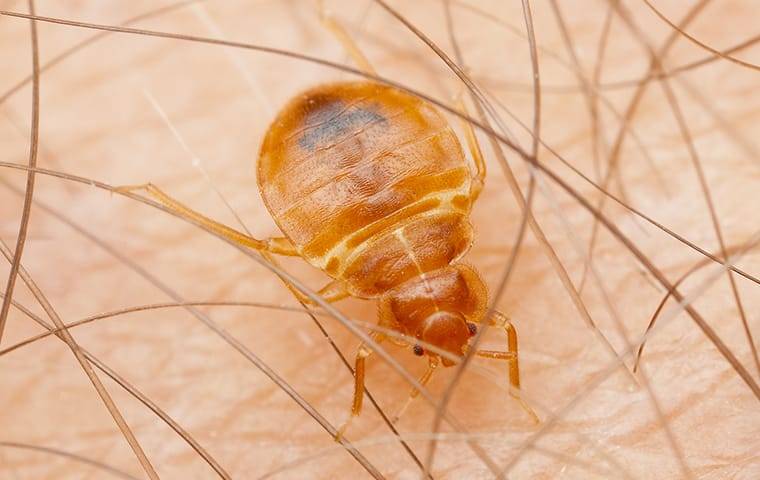 Bed bugs are often thought of as being a big-city pest; however, Hildebran residents need to be aware that bed bug infestations can develop in their small-town homes, too. These pests are parasites that travel around via hitchhiking. They usually invade a host and go for a free ride around town. What this means is that spreading bed bug infestations is a very easy thing to do. If someone has an outbreak in their home, which they picked up at say, a hotel, then they can bring it into their own workplace or any public spaces they spend time in. This is precisely why it's always important to inspect personal belongings after spending time in public places, even if they might appear clean.
Bed bug problems also spread by bringing home invaded secondhand furniture items or mattresses, so these deserve a good inspection as well. The most effective way to eliminate bed bugs in Hildebran is with professional services. The trusted team at Go-Forth Pest Control has more than 60 years of experience in this arena and uses the safest methods possible to eliminate bed bugs. For more information on bed bug control in Hildebran, call us today.
How To Keep Termites From Destroying Your Home In Hildebran
When it comes to keeping termites away from your home, there is nothing more secure than professional termite prevention in Hildebran from Go-Forth Pest Control. Termites are stealthy pests that invade homes like yours in search of wood to eat. Preventing them without professional assistance is a tedious task that comes with no guarantees. When you work with Go-Forth Pest Control, you'll benefit from more than 60 years of local pest experience and the best products on the market. Each of our technicians has been specially trained to address termites and will always be courteous.
Our termite control system incorporates detailed property inspections and the Sentricon® System with Always Active™. This system is highly adept at eliminating entire termite colonies while actively preventing new ones. We also offer official Wood-Destroying Insect Reports as well as pre-construction treatments. Our technicians will work with you on the ways that you can further reduce termite attraction in the future. For more information on protecting your home from termites, call us today and get started on our effective termite control services in Hildebran.
Commercial Pest Control In Hildebran
At Go-Forth Pest Control, we provide customized pest control in Hildebran services that are built to your business's exact needs. As a company with more than 60 years of experience, excellence is behind everything that we do. But we don't rely on our pristine reputation alone. Our company is committed to constantly learning and innovating. We implement methods that have been proven safe and effective and we stand by our work.
When you partner with us, you'll also benefit from having a dedicated team on your case and someone to answer your calls no matter the time of day. At Go-Forth Pest Control, we believe that customer satisfaction is the most important thing and we want you to know it. For more information on our Hildebran commercial pest control offerings, please call us today.