Reliable Pest Control In New Hill, NC
New Hill is a small, tight-knit community that is brimming with local industries. There are also farms, houses of worship, and safe neighborhoods. Being a mere few miles from Raleigh, residents of New Hill have it all. But even small towns like New Hill see their share of pest problems.
At Go-Forth Pest Control, we deliver reliable pest control in New Hill that can keep your home or place of business pest-free throughout the year. This has been our family's mission for more than 60 years and we're now in our third generation of family ownership. We prioritize customer satisfaction and are dedicated to making sure that you know it. For more information on our services, please call us today.
Residential Pest Control In New Hill
When it comes to keeping pests out of your home, Go-Forth Pest Control can help. Our family business has been providing pest control in New Hill for three generations and we continue to serve our community to this day. In order to maximize your coverage and savings, we've devised the following programs that all use EPA-approved products:
The Basic: Our starter plan is great if you're looking to be proactive about pests. It utilizes quarterly exterior services to address a broad range of pests from rodents to millipedes.
My Elite: If you're looking for more coverage, our bi-monthly plan is for you. It makes interior services standard and includes protection from stinging insects. You'll also get priority scheduling as well.
My Elite Plus: Our most comprehensive program includes services for fire ants, ornamental pests, mosquitoes, fleas, and ticks.
We also provide treatments for specific pests if you don't desire a plan. To learn more about our residential pest control services in New Hill, please call us today.
How To Keep Fleas Out Of Your New Hill, North Carolina Home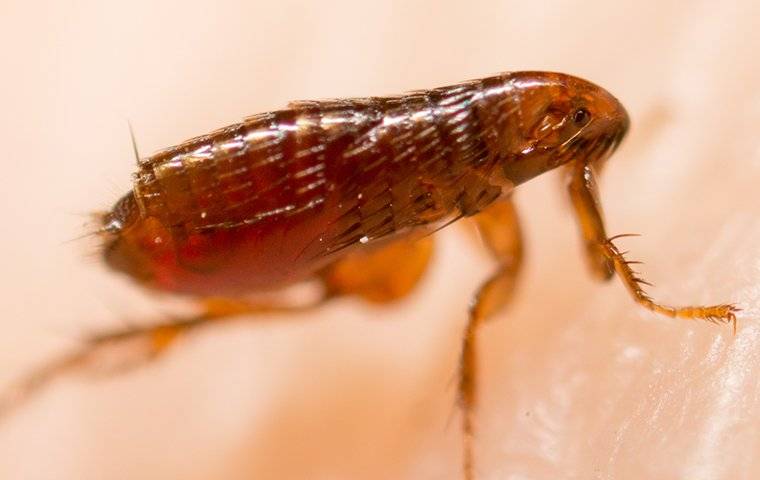 The fleas in New Hill can be quite dangerous, so you'll want to keep them out of your home at all costs. They are particularly dangerous for your pets, but they can also be risky for your health as well.
Here are a few tips for how to keep them off your property:
Talk to a vet. If you have pets, consider talking to a veterinarian about year-round flea prevention options.
Limit rodents and wildlife. These animals are often responsible for spreading fleas to properties, so keeping them away is key. Use decoy animals, store outdoor trash properly, and opt for shiny decorations.
Create an inhospitable yard. Try using landscaping to deter fleas. This will entail mowing frequently, not overwatering, and pruning hedges.
Seal openings. It'll also be important for you to fill in the cracks around your home with materials like caulk.
Call the pros. Rather than wait for a flea problem to occur, consider professional flea control in New Hill.
For more information on flea control in New Hill, call Go-Forth Pest Control today.
Ten Easy Fly Prevention Tips For New Hill Homeowners
Flies can end up in New Hill homes very easily because they're primarily attracted to food bits and water. While they might seem relatively harmless, flies can spread some very serious pathogens that cause health problems.
Here are 10 easy tips that homeowners can try to keep them away:
Clear away any dead insects or shed body parts and skins.
Keep drainage systems working properly and free from clogs.
Check trash bins for food residue between uses and clear any away.
Don't let rotting fruits and vegetables sit on the counter. Dispose of them properly in outdoor garbage cans.
Be sure to shut off showers and sinks completely after using them to avoid subtle drips.
Use sealed containers or airtight materials to secure leftover food items.
Sweep floors on a regular basis.
Clear out sink drains routinely to eliminate food build-up.
Seal cracks and crevices around the home with silicone-based caulk.
Consider working with a pest control professional for fly control in New Hill.
For more information on year-round fly prevention, call Go-Forth Pest Control today.
Commercial Pest Control In New Hill
At Go-Forth Pest Control, we provide pest control in New Hill that is designed to protect your business during any occasion. We are a family-owned business that has been in operation for more than 60 years. This diverse experience drives the work that we do today, while we continue to innovate and provide safe services.
When you work with us, you can always expect a straightforward experience that includes more than just detailed services. We also pride ourselves on quick response times, easy scheduling, and a pest-free guarantee. Everything that we provide you with is completely customized to your needs so that we can address a broad range of pests in a host of industries. If you have pest concerns, we're the team to call. To learn more about New Hill commercial pest control, call us today.