Pest Control In Caroline County, VA
Bordered by the Rappahannock River, Caroline is a bustling Virginia county with Civil War trails and historical markers – it's even the birthplace for the award-winning horse, Secretariat.
As many things as there is to love about Caroline County, the ongoing pest problems are not one of them. Here's what residents should know about our professional home pest control, how we serve commercial properties, what attracts mosquitoes, and how Caroline County pest control can help you deal with termites.
Residential Pest Control In Caroline County, VA
At Go-Forth Pest Control, our goal isn't just to eliminate the current pest problem in your Caroline home – it's also to ensure that they don't come back. We treat a variety of pest problems for Caroline County residential homes, including:
Termites
Mosquitoes
Fleas
Hornets and wasps
Bed bugs
Lawn care
All of our services include a satisfaction guarantee – whether it's your first time or your 30th time working with us, we want to make sure you're happy with our home pest control treatments.
Are You Making Your Caroline County Property A Target For Mosquitoes?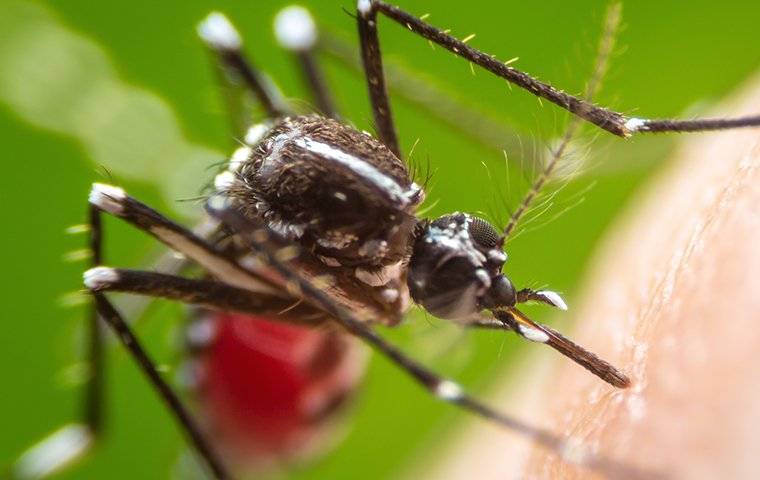 If you've ever wondered why mosquitoes seem worse around lakes, swamps, or marshes, it's not a coincidence. Mosquitoes love water, but they especially love any source of standing water where there's little to no movement. If your home has any standing water, it's also a target for mosquitoes.
This is because mosquitoes prefer to lay their eggs and larvae in standing water, so habitats like wetlands or swamps make great places to live. You may not live near a swamp, but if you've got standing water on your property, it could attract mosquitoes. Even puddles, birdbaths, or decorative ponds can serve as mosquito breeding grounds.
When it comes to how to prevent mosquitoes, there are ways you can keep them away. Mosquitoes can be difficult to control, but there are a couple of ways to make your yard less appealing to them, such as:
Eliminate any of those standing water sources, like birdbaths, puddles, clogged gutters, or yard debris that may fill up with water after rain.
Try to limit how many bright flowering plants you put in your garden as they can also attract mosquitoes.
Don't forget about regular lawn maintenance like cutting the grass or trimming bushes because weeds and tall grass can give mosquitoes a shady place to rest.
The best way to deal with mosquitoes in Virginia is by working with the pros at Go-Forth Pest Control. We can significantly reduce mosquito populations around your home by using eco-friendly treatments that won't put you or your family at risk.
Caroline County's Most Commonly Asked Termite Questions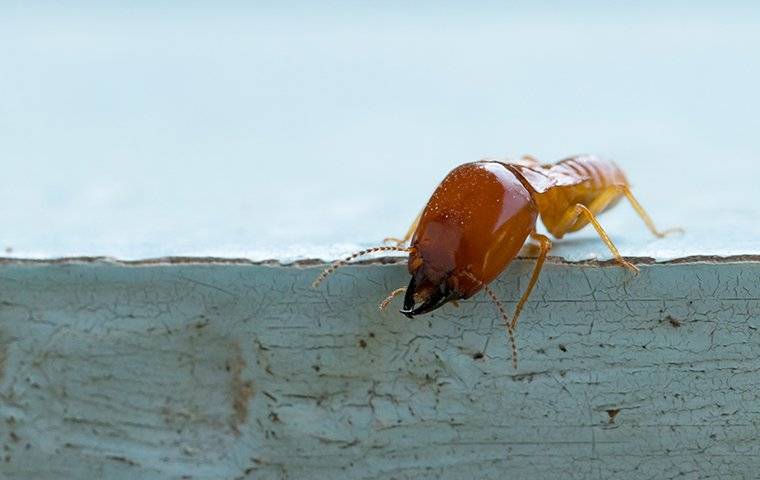 Got questions about termites in Virginia? We've got answers.
Can I see termites? Termites are sneaky pests, and they're excellent at hiding in walls, floors, and other areas of your property where you're unlikely to find them. For this reason, termite infestations can go unnoticed for months or even years – and by this point, they may have caused hundreds or thousands of dollars in property damage.
To catch termites early, it's not only important to understand what the signs of a termite problem are but to get annual inspections of your home. A pest management professional knows even the earliest and most subtle signs of a termite infestation as well as how to help you identify how much damage has been caused.
What are the signs of termites?
Tight-fitting windows and doors: While doors and windows may not fit their frames for other reasons, tight-fitting windows and doors are a likely sign of termites. Termites introduce extra moisture into your home, which can cause wood to warp and change shape. If all your windows and doors suddenly won't close correctly or seem too tight, termites could be the culprit.
Frass: Termite droppings, also called frass, get kicked out of tunnels when termites create them. Frass tends to look like sawdust or coffee grounds, and you may find droppings piled in corners or around baseboards.
Discarded wings and swarms: To keep growing their numbers, reproductive members of a termite colony will need to take flight and look for a mate. These are called swarms and are one of the most obvious signs of a termite problem around your property. However, it's more likely for homeowners to find what's left behind of the swarm: discarded and shed wings around doors and windows.
Mud tubes: You may not see it with drywood termites, but subterranean termites create mud tubes around your home. You'll want to look for these tubes outside, along the foundation of your house.
If you're seeing any of the signs above, the best way to deal with termites is by working with Go-Forth Pest Control – our termite control services will ensure these pests are eliminated and won't come back to your Caroline County home.
Commercial Pest Control In Caroline County, VA
Our commercial services are just as extensive as our residential programs are. While we specialize in inspecting and treating office spaces for common pests, we'll also work with a variety of other commercial properties, including:
HOAs
Property management
Nursing homes
Industrial complexes
If you're looking for the best commercial pest control near you, look no further than Go-Forth Pest Control.