Trustworthy Pest Management For Homes & Businesses
Just over 10 miles from Charlotte, the suburb of Matthews, NC, is a fantastic place to call home. The historic charm mixed with the bustling energy of downtown give local residents the perfect combination. However, when you throw pest activity in the mix, that combination suddenly becomes very threatening. Pest infestation is year-round danger that all Matthews property owners should be prepared for. The best way to prepare is to call in the pest professionals.
Welcome to Go-Forth Pest Control, your local source for quality pest solutions. Since 1959, our family owned and operated company has been providing residential and commercial pest solutions to properties throughout the Piedmont Triad region. We're experienced in dealing with all kinds of infestation, no matter how big or small. Reach out to us today to get your free service quote, we're here to help you and give you the guaranteed results you deserve.
Pest Control Services In Matthews, NC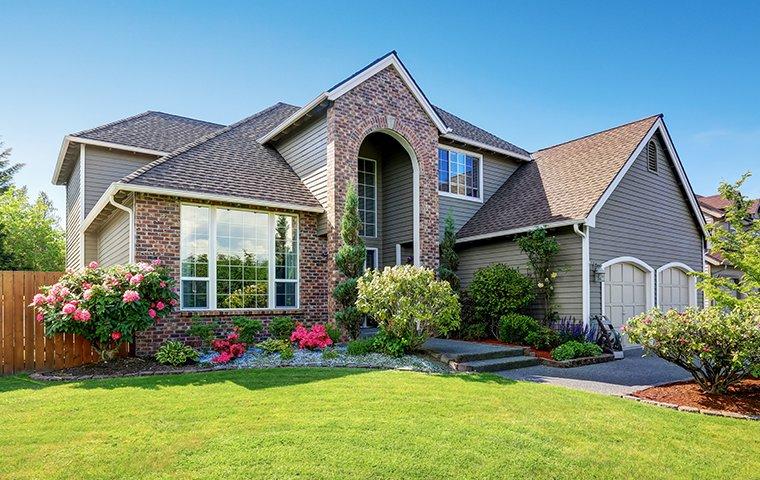 Our Charlotte pest control branch proudly offers Matthews pest control services. Our local exterminators can get rid of all bugs and pests from your home like bed bugs, termites, mosquitoes, ants, cockroaches, spiders, rats & mice - get rid of your pest problems today! Bugs are hard to get rid of on your own, and home remedies rarely work. It is the best option to let a professional handle your pest control.
Getting Rid Of Bugs Extremely Fast
Our trained pest control techs will target key areas for extermination, giving pests and bugs no chance for survival. In no time you will be pest-free and enjoying your home again.
Experienced Pest Exterminators
With decades of experience dealing with all types of pest problems and pest infestations both big and small, our Matthews exterminators will get the job done right the first time, leaving no trace of your unwanted pests. Our experience marks the difference, we have been killing bugs since 1959.
Our Pest Management Services
Our top-requested pest management services around Matthews, NC and Charlotte, NC:
Flea Control
It's always advisable to wash your pets with a flea treatment, but if the flea infestation is out of control, we're here to help you exterminate those fleas.
Ant Control
Ants destroy your home and yard fast, so it's imperative to treat this pest problem as soon as as possible. Our ant control plan will get rid of your ant problem today, as we use pet and kid-friendly products and the latest technology that will destroy ant colonies for good.
Home Mosquito Control
We will minimize the population of mosquitoes around your home, so that you can enjoy your backyard with no mosquito bites.
Rodent Control
Our rodent control service is one the most requested by Fort Mill customers, it's not very expensive, and it will make sure you don't have mice or rats inside your home.
Termite Control
Our termite control exterminators will protect your home from termites with Sentricon Stations buried underground, around your home.
Roach Control
Roaches can invade your home fast, and we will stop their invasion with our effective and pet-safe treatments. Go-Forth Pest Control of Charlotte serves all areas of Matthews, NC. Get a FREE Price Quote Today!
Home Pest Control In Matthews, NC
Household pest activity is a real threat that can seriously compromise the structure of your property as well as the health and safety of everyone inside the home. That's why we recommend ongoing services from the pest professionals. Our home service plans provide year-round coverage from household pest infestation. Our offered service plans are:
Not only do we provide pest control and lawn care solutions, but our team is also experienced in effective TAP insulation, and real-estate termite inspections. Whatever the nature of your pest problem, the team at Go-Forth Pest Control has your back. Give us a call today to get started.
Commercial Pest Control In Matthews, NC
Commercial pest infestation makes your job as a business owner much harder, and it's a nightmare that can quickly run you out of business. It's poses a threat to your revenue, your employees, your customers, and your reputation. That's why professional protection is so crucial. We service a broad range of local businesses and facilities, some of which include HOA and property management, nursing homes, offices, and industrial complexes.
From termites, mosquitoes, and bed bugs, to fleas, hornets, wasps, and ants - we cover it all. After finishing a thorough inspection, we'll come up with a detailed commercial pest control treatment plan to meet your needs. Our team has over 50 years of pest control experience, meaning we have the extensive knowledge and expertise to get the job done right. If you want guaranteed, pest-free results that promise to protect your Matthew business from the detriments of infestation, contact us today.
The Four Best Mosquito Control Methods For Your Matthews Yard
Mosquitoes are parasitic pests that are more dangerous than many of us think. As vector-pests, mosquitoes are capable of transmitting a long list of illnesses and diseases to their hosts. In order to avoid contracting vector-borne illnesses, there are some preventative measures you can try. Here are four ways to keep mosquitoes away from your yard:
Wear insect repellent while outdoors, and wear clothing treated with DEET or permethrin.

Repair damaged window and door screens, or install new ones, to prevent entry.

Eliminate sources of standing water, because that's where mosquitoes lay their eggs.

Plant natural mosquito deterrents around your yard, like basil, lavender, marigold, citronella grass, etc.
If you're looking for guaranteed, year-round protection from mosquito activity, your best bet is to rely on the pest experts. Go-Forth Pest Control offers you complete mosquito control and prevention services that protect your property all year long. Contact us today to get started; we're eager to help you.
What Matthews Homeowners Ought To Know About Termites
When termites begin feeding on moist, damaged wood, they start to destroy the structural integrity of your home from the inside out. As their colonies grow, the construction weakens, and there is less healthy wood for the structure of your home to rely on. Not only is that a threat to your property as a whole, but it's also unsafe for your loved ones inside the house.
The effects of termite damage can also be very costly. In this country alone, property owners spend over five billion dollars in termite repair and prevention costs. The best thing you can do is to be proactive with a preventative approach. While there are a variety of prevention methods that you can implement, it's still important to work with a professional pest control company. Go-Forth Pest Control is here to help protect your home from the dangers of termite activity. From inspection and identification, to treatment and follow up, we are with you every single step of the way. Call us today to address all of your termite control and prevention needs.